Europe > Cruises > European Cruise Guide > Cruise lines > Cunard
Cunard Line
From: European Cruise Guide
---
---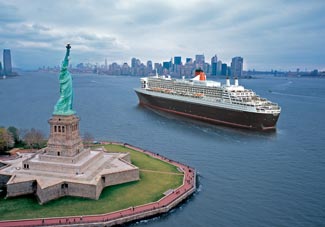 ABOVE: The Queen Mary 2 passes Liberty Island in New York Harbor.
Cunard Line is the last of the great transatlantic shipping companies. Its 2,620-passenger flagship--the Queen Mary 2--is the newest of Cunard's legendary ocean liners. QM2 is a worthy successor to the Queen Elizabeth 2, which plied the North Atlantic for more than three decades.
Two newer ships designed for cruising, the Queen Victoria and Queen Elizabeth, entered service in 2007 and 2010 respectively. Another vessel, Queen Anne, will join the fleet in 2024.
In a typical year, Cunard offers a full schedule of transatlantic crossings aboard Queen Mary 2, along with several dozen European cruises. (On the transatlantic route, the majority of crossings are between New York and Southampton, with a few voyages adding Hamburg to the itinerary.)
Cruise line's Web site:
---
---