Fred. Olsen Cruise Lines
From: European Cruise Guide
---
---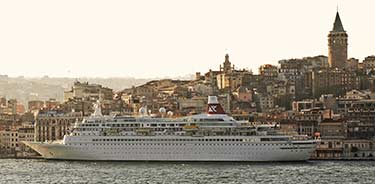 ABOVE: Fred. Olsen's Black Watch in Istanbul, Turkey. INSET BELOW: Boudicca at Copenhagen's Langelinie Quay.
Fred. Olsen Cruise Lines traces its roots back to 1848, when three Norwegian brothers--Fredrik Christian, Petter, and Andreas Olsen--bought a handful of ships and launched an international shipping company.
The family firm's headquarters is still in Oslo, although its passenger subsidiary--Fred. Olsen Cruise Lines--is based in Ipswich, England. The line focuses primarily on the British market but has overseas agents in countries as far away as the United States, South Africa, and Australia.

Fred. Olsen currently has four cruise ships: Black Watch and its sister ship Boudicca, Braemar, and Balmoral.
All four vessels are relatively small by today's standards, with passenger capacities ranging from 804 to 1,350 and dimensions that are compact enough to allow mooring at downtown quays or in smaller ports.
The company's cruise destinations include out-of-the-way locations such as Greenland and Arctic Russia along with more typical Mediterranean and Baltic ports. Cruise lengths range from several days to two months or more.
Cruise line's Web site:
---
---
.