Holland America Line
From: European Cruise Guide
---
---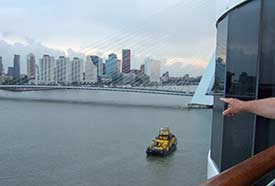 ABOVE: The ms Rotterdam arrives in Rotterdam, Netherlands after a cruise to Scandinavia.

Holland America Line transported some 850,000 immigrants to the United States in its heyday as a Dutch transatlantic steamship company. Service between Rotterdam and New York ended in 1971, and today HAL is an American-owned "premium cruise line" with 14 ships that serve more than 600,000 guests per year.
Holland America's 2020 European schedule includes 158 cruises from six ports, with three ships in Northern Europe and four in the Mediterranean. Cruise lengths range from seven to 35 days.

Cruise line's Web site:
Cruise review:
ms Rotterdam: Scandinavian cruise
---
---