Hurtigruten
From: European Cruise Guide
---
---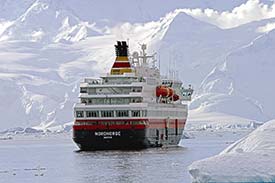 ABOVE: MS Nordnorge is one of the cruise ferries on Hurtigruten's year-round North Cape route.

Hurtigruten is a fleet of cruise ferries that operate year-round from Bergen to the North Cape of Norway.
During a 12-day round trip, the vessels stop at 34 ports. Passengers who don't have time for the full itinerary can book one-way voyages of 7 days (northbound) or 6 days (southbound). It's also possible to buy short-haul ferry tickets between individual ports. Optional shore excursions range from city sightseeing tours to Zodiac, dogsled, and birdwatching trips.

Hurtigruten also provides adventure cruises in the Arctic, Greenland, and the Antarctic. (See our Spitsbergen Cruise article and photo gallery for an archived report of a cruise aboard a vintage Coastal Voyage steamer, the MS Nordstjernen.) Voyages to Iceland, Russia, Alaska, Antarctica, the Caribbean and Central America, and other destinations are also on Hurtigruten's 2019 cruise calendar.
Cruise line's Web site
Archived articles at Europe for Cruisers:
---
---