Katarina Line
From: European Cruise Guide
---
---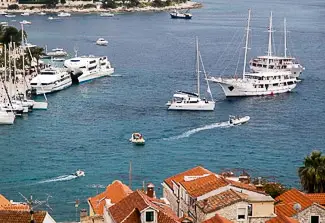 Katarina Line offers short cruises of varying lengths on a fleet of more than 50 individually-owned small ships in Croatia, with departures from Opatija, Split, Dubrovnik, and Zadar from spring through fall.
The line, which was founded in 1992, welcomes passengers of all ages and budgets. Ships are organized into four categories with more than two dozen itineraries. (Some vessels are modern steel yachts, while others are gullets and other traditional wooden ships.)
Specialty cruises are available, such as "Deluxe Cruises" with upscale shore excursions such as wine tastings, "Activity Cruises" with biking or hiking excursions, "Nature's Way" cruises that celebrate Croatia's long naturist tradition, and "Young Fun" cruises that visit hot party spots along the Croatian coast.
Cruise line's Web site:
---
---
Photo copyright © Katarina Line. Used by permission.