Lüftner Cruises
From: European Cruise Guide
---
---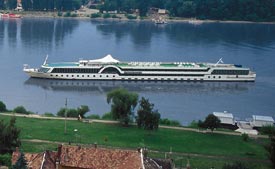 ABOVE: MS Amadeus Royal is one of 15 ships in the Lüftner Cruises fleet.
Lüftner Cruises is an Austrian company that operates more than a dozen modern river vessels under the "Amadeus" brand in Western and Central Europe. Cruising areas include the Danube, Rhine and Main, Seine, Rhône and Saône, and Dutch and Belgian waterways.
Lüftner's European cruising season begins in March and runs through December, when several Advent, Christmas, and New Year's cruises are on the calendar.
Unlike many river-cruising companies, Lüftner offers a European experience for passengers who don't want to leave Europe behind when they return to the ship at the end of the day.
Cruise line's Web site:
---
---