Norwegian Cruise line
From: European Cruise Guide
---
---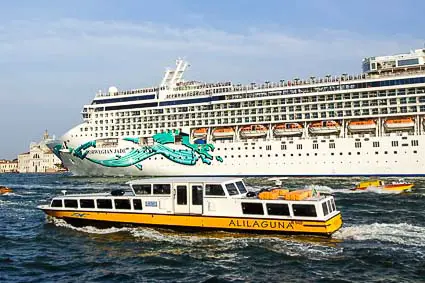 ABOVE: Norwegian Jade cruises up Venice's Giudecca Canal. INSET BELOW: NCL's logo, and an afternoon by the pool.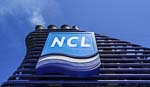 Norwegian Cruise Line is offering dozens of European cruises in 2020. Most are in the Mediterranean, although NCL does offer a number of Baltic and Scandinavian cruises.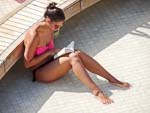 Six ships are featured in 2020: the 2,402-passenger Norwegian Jade, the 2,394-passenger Norwegian Pearl, the 2,348-passenger Norwegian Star, the 2,018-passenger Norwegian Spirit, and two megaships: the 3,963-passenger Norwegian Getaway and the 4,100-passenger Norwegian Epic.
NCL emphasizes "Freestyle Cruising," which lets passengers choose from a variety of dining and dress options.
The line is also family-friendly, with a university-trained "Youth Staff" on each ship and special activities for children and teenagers.
We cruised with NCL a few years ago, and we enjoyed the experience. (You'll find a link to our cruise review and day-by-day photo gallery below.)
Cruise line's Web site:
Cruise review:
Norwegian Jade 14-day Mediterranean Cruise from Venice
---
---