Nicko Cruises
From: European Cruise Guide
---
---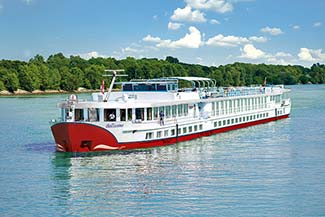 Nicko Cruises is a long-established German cruise operator. In 2009, when Peter Deilmann exited the river-cruising business, Nicko Cruises acquired many of its highly-regarded ships.

Although announcements, programs, etc. are available in both German and English, the official onboard language is German, so you won't get full value from your cruise unless you're comfortable with Deutsch. (Exception: Nicko will provide English-speaking guides for groups of 25 or more Anglophone passengers.)
In 2019, Nicko is also introducing ocean cruises on an expedition ship, the World Explorer.
Cruise line's Web site:
---
---
Top and 1st inset photos copyright © Nicko Cruises.