Orient Lines
From: European Cruise Guide
---
---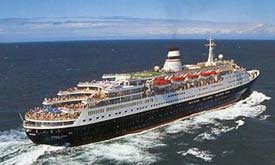 ABOVE: The Marco Polo, formerly the Alexandr Pushkin, at sea.
Archived page
Until a few years ago, Orient Lines was a subsidiary of NCL Corporation (owners of Norwegian Cruise Line) that specialized in destination-oriented vacations from Europe to Antarctica. The line's only ship, the Marco Polo, entered service as the Alexandr Pushkin of Baltic Shipping Line in 1965 and was rebuilt as a modern cruise ship in the early 1990s. (We sailed on the Pushkin in its Soviet days.)
In 2007, NCL sold Marco Polo to a holding company, and the line ceased operations with a farewell voyage between Rio de Janeiro and Lisbon in March, 2008. The ship is currently back in service with a British travel company, Cruise & Maritime Voyages.
---
---