P&O Cruises
From: European Cruise Guide
---
---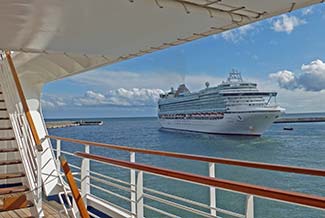 ABOVE: Ventura leaves Malaga, Spain. INSET BELOW: Aurora cruises past Elba.

P&O Cruises is the British half of P&O Princess Cruises, a subsidiary of Carnival Corporation. It serves upmarket travelers from the UK, with cruises that range from a few days to two weeks or more in length.
Most P&O cruises are roundtrip voyages from Southampton. However, the company does offer "fly-cruises" that depart or arrive in Mediterranean ports.
A number of P&O cruises are billed as "exclusively for adults" (a more elegant replacement of P&O's earlier term, "child-free.") If you believe that children should be unseen and unheard, P&O may be just your cup of English breakfast tea.
Cruise line's Web site:
---
---
Inset photo copyright © P&O Cruises.