Peter Deilmann River Cruises
From: European Cruise Guide
---
---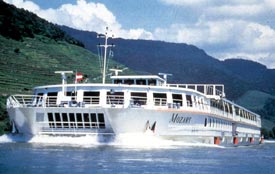 ABOVE: The MV Mozart was rated the world's best river ship in a Condé Nast Traveler reader poll. INSET BELOW: A double cabin on the Mozart.
Archived page

Peter Deilmann Cruises left the river-cruising business after the 2009 season, but many of its ships are now owned by a longtime German operator, Nicko Tours, which offers mostly German-language cruises on a number of European Rivers. For details, see our Nicko Tours River Cruises page.
Archived Peter Deilmann cruise review:
MS Casanova (now owned by Nicko Tours)
---
---
Photos © Peter Deilmann Cruises. Used by permission.