Princess Cruises
From: European Cruise Guide
---
---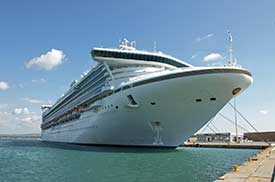 ABOVE: Grand Princess in Katakolon, Greece. INSET: Hull painting, and a Princess sun logo.

Princess Cruises is a mid-priced American cruise line that mostly operates large ships with capacities in the 2,600- to 3,700 passenger range. It does have one smaller ship on the European circuit: the 670-passenger Pacific Princess, which is able to visit smaller "boutique ports."

The line's 2020 European cruise schedule features several dozen three- to 27-night tineraries in the Mediterranean and Northern Europe, some with sailings on multiple dates. Transatlantic crossings are also on the year's cruise calendar.
Cruise line's Web site:
---
---