Princess Cruises
From: European Cruise Guide
---
---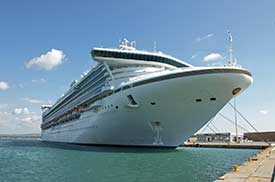 ABOVE: Grand Princess in Katakolon, Greece. INSET: Hull painting, and a Princess sun logo.

Princess Cruises is a mid-priced American cruise line that mostly operates large ships with capacities in the 2,600- to 3,600 passenger range. It does have one smaller ship on the European circuit: the 670-passenger Pacific Princess, which is able to visit smaller "boutique ports."

The line's 2019 European cruise schedule features itineraries in the Mediterranean and Northern Europe, many with sailings on multiple dates. Several transatlantic crossings are also on the year's cruise calendar.
Cruise line's Web site:
---
---