Royal Caribbean International
From: European Cruise Guide
---
---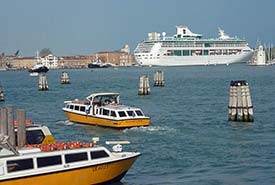 ABOVE: Splendour of the Seas in Venice, Italy.
Royal Caribbean International is an American cruise line that serves the mass market with affordable cruises on large ships that carry up to 5,400 passengers each.
The last time we checked, the company listed several dozen vessels in its fleet or under construction. Its newer ships emphasize a resort experience, with over-the-top features that include bumper cars, water parks, and a thrill ride that lifts passengers 300 feet above the water.
Although most Royal Caribbean guests are English-speaking tourists from the United States and Canada, the line also has Spanish-language information on its U.S. Web site and markets to customers outside of North America.
In 2018, Royal Caribbean will feature 8 itineraries in Europe, ranging from three to 14 nights. (Among the cruise line's more attractive offerings will be a series of seven- and eight-night roundtrip itineraries from Venice.)
Cruise line's Web site:
Cruise video:
Spendour of the Seas in Venice, Italy
---
---
Inset photos: Royal Caribbean International.