Regent Seven Seas Cruises
From: European Cruise Guide
---
---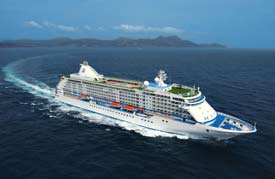 ABOVE: The Seven Seas Voyager. INSET BELOW: An aft view of Voyager, and a Voyager Suite.

Regent Seven Seas Cruises is an upscale line that mostly serves the North American market but has travel agents on five continents. The line has four medium-size ships: Seven Seas Explorer, Seven Seas Voyager, Seven Seas Mariner, and Seven Seas Navigator, with passenger capacities of 490 to 750.

Regent's 2018 European cruise calendar includes more than 100 transatlantic, Mediterranean, and Northern European itineraries. Cruise fares include airport transfers, shore excursions, pre-cruise hotel stays, drinks, unlimited Wi-Fi, and tips. (Guests in higher-priced suites also receive roundtrip air fare--including business class on intercontinental flights--at no extra cost.)
Some Regent voyages have special themes, such as music, cooking workshops, art and design, and lectures. A "Club Mariner" youth program operates during the summer months.
Cruise line's Web site:
---
---
Photos copyright © RSSC.