Saga Cruising
From: European Cruise Guide
---
---
Saga Holidays is a UK travel operator with an in-house cruise line. The company will operate several ships in 2019: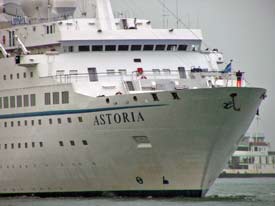 Saga Pearl II (formerly the Arkona and Astoria, shown at right)--was built in 1981 and had a three-month, £20 million overhaul before joining the Saga fleet in 2010.
The line's second "classic" ship is Saga Sapphire, which was built as Hapag-Lloyd's luxury cruiser Europa in 1981 and most recently sailed as the Bleu de France.
An all-new ship, Saga Navigator, is on order for delivery in 2019, when Saga Pearl II will be retired.
Saga Holidays caters exclusively to travelers over the age of 50, and most of its customers are from the UK.
Cruise line's Web site:
---
---