Scenic (Ocean)
From: European Cruise Guide
---
---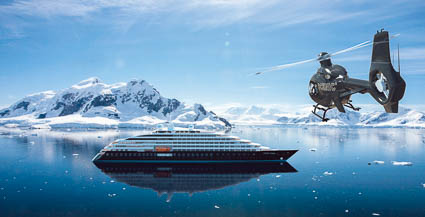 ABOVE: A computer rendering of Scenic Eclipse in Paradise Bay, Antarctica.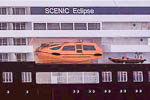 Since entering the European river-cruising market in 2008, Scenic (an Australian-based company) has built a fleet of "Space Ships" that offer luxury cruises on Europe's most popular waterways. Scenic will soon expand into saltwater cruising with Scenic Eclipse, a newly-built "discovery yacht" that entered service in 2018.
The 228-passenger, Polar Class 6-rated vessel cruises in the Arctic, the Antarctic, Europe and the Mediterranean, and other locations. The ship features a private verandah (to use Scenic's Australian spelling) for every suite, two seven-seat helicopters, a seven-seat submarine, kayaks, snorkeling and scuba equipment, and a remotely operated underwater vehicle (ROV).
Despite the ship's compact size (16,500 GRT, with 114 suites), it offers six dining venues, a spa, a gym, a library, and a 240-seat theatre.
For more information, including a downloadable brochure with 2020 cruise itineraries, visit the Scenic Eclipse pages at the cruise line's U.S. Web site (link below) and scroll down for videos, brochure links, and more.
Cruise line's Web site:
---
---
Images copyright © Scenic.