Seabourn Cruise Line
From: European Cruise Guide
---
---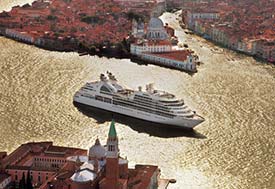 ABOVE: Seabourn Odyssey in Venice. INSET BELOW: A balcony suite, and a lounge with a panoramic view.

Seabourn Cruise Line offers high-end luxury cruises on modern ships that are relatively small by today's standards. Seabourn Odyssey, Seabourn Sojourn, and Seabourn Quest have maximum capacities of 458 guests. The line's newest vessels, Seabourn Encore and Seabourn Ovation, can accommodate 600 passengers.

All Seabourn cabins are called "suites" and feature such amenities as walk-in closets, Bose stereos, stocked bars, and optional WiFi Internet access (which is available throughout the ship). Wines, spirits, and other drinks are included in Seabourn's cruise fares, and tipping is not required or expected.
Seabourn's 2019 European season runs from April to November, with cruises in the Mediterranean and Northern Europe. A handful of transatlantic sailings are also on the 2019 cruise calendar.
Cruise line's Web site:
Cruise video:
Seabourn Spirit in Venice, Italy
---
---