SeaDream Yacht Club
From: European Cruise Guide
---
---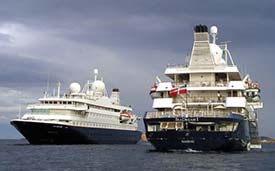 ABOVE: SeaDream I and II meet at Puerto Cervo, Sardinia. INSET BELOW: A SeaDream stateroom.

SeaDream Yacht Club was created in 2001 by the founder and former CEO of Seabourn Cruise Line. The company, which claims to offer a "yachting" rather than a "cruising" experience, has two small ships: the SeaDream I and SeaDream II, which are identical in design and carry a maximum of 112 passengers each.
Both ships have stern-mounted "Water Sports Marinas" that can be lowered into the water to allow kayaking, water skiing, and other active pursuits.
Unlike most luxury lines, SeaDream eschews formality. One of its mottos is "No tux for guys, no gala gowns for gals," and "resort casual" is the only phrase in its dress code.
This doesn't mean that SeaDream caters only to a beer-and-burgers crowd; caviar and complimentary wines are included in the line's culinary repertoire, and the line describes its service as being "in the European style." Fares include beverages and tips.
SeaDream's 2019 European season begins in late April and continues until late October, with 48 cruises of five to 11 days (all in the Mediterranean or along the Western coast of Europe). Several transatlantic voyages are also on the line's 2019 calendar.
Cruise line's Web site:
---
---
Photos copyright © SeaDream Yacht Club. Used by permission.