Strand Voyages
From: European Cruise Guide
---
---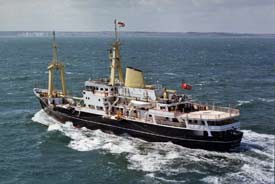 ABOVE: THV Patricia visits ports around the United Kingdom.
After 26 years, Strand Voyages (a longtime leader in freighter travel) has phased out passenger bookings on tramp steamers, containerships, bulk carriers, and other cargo vessels. It recommends that freighter travelers contact The Cruise People Ltd.
Strand Voyages continues to represent THV Patricia, the flagship of Trinity House (the UK's General Lighthouse Authority), which services offshore lighthouses, lightships, and navigational buoys and handles maritime emergencies along the coasts of England, Wales, and the Channel Islands.
Cruise line's Web site:
---
---