Variety Cruises
From: European Cruise Guide
---
---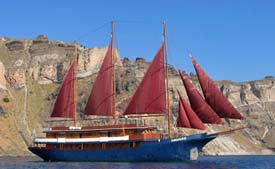 ABOVE: The M/S Galileo accommodates 50 guests in 25 cabins. INSET BELOW: The "mega-yacht" Pegasus in Santorini, Greece.

Variety Cruises (formerly the Zeus Cruise Collection) offers a yachting experience in the Greece, Italy, France, the Adriatic, the Canary Islands, and areas outside Europe. It claims to be the largest small-ship cruise line in the world, with eight large sailing yachts and diesel-powered vessels.
European itineraries are mostly seven nights in length. A company subsidiary, Variety Yachting, offers luxury boat charters.
Cruise line's Web site:
---
---
Photos copyright © Variety Cruises. Used by permission.