Voyages to Antiquity
From: European Cruise Guide
---
---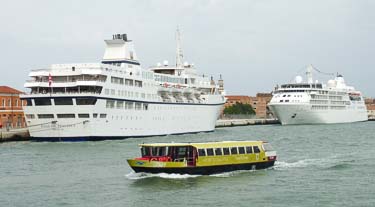 Voyages to Antiquity has offered cruises in the Mediterranean since 2010, with an emphasis on the art, history, and culture of classical civilizations. (The line has since added a winter program in Southeast Asia, India, and the South Pacific, with itineraries that cater to the educated traveler.)

The company operates one small ship: the MV Aegean Odyssey, which accommodates an average of 350 passengers.
In addition to the usual amenities, the ship has a lecture theatre where guest speakers--including lecturers from the Archaeological Institute of America--provide background for short excursions. (Half- or full-day tours are included in the fare at all major ports, with optional visits at some locations.)
In 2018, the line's European cruise calendar includes ports in the Aegean, Adriatic, and Mediterranean.
Cruise line's Web site:
---
---
Inset photo copyright © Voyages to Antiquity. Used by permission.