Spitsbergen Cruise Photos
From: MS Nordstjernen cruise review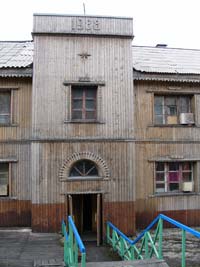 Barentsburg
Most passengers took the free guided walking tour, which was led by a female guide with an authoritarian manner but a dry sense of humor. Among other sights, we were shown a building that was constructed in 1988 (one year before the breakup of the Soviet Union) in traditional Russian Svalbard style.

Many of the windows had boxes that looked like air conditioners but were actually "Svalbard refrigerators," or icebox cabinets that take advantage of the chilly (but not extreme) local climate.
The building was in obvious need of maintenance, confirming stories of Barentsburg's decline since the breakup of the Soviet Union and the reduction in subsidies from Moscow.
Spitsbergen Cruise - Photo Location Index
---
---
---