Wind Surf Photos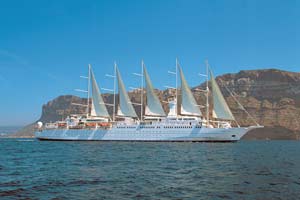 The ship under sail
In this publicity photo from Windstar Cruises, Wind Surf is shown cruising off the coast of France.
The ship was built by Sociéte Nouvelle de Ateliers et Chantiers du Havre in Le Havre, France and entered service as the Club Med 1 in 1990. It was acquired by Windstar Cruises in 1998. After a major refit (which included the conversion of several dozen staterooms into suites), the vessel re-entered service as the MSY Wind Surf.
The 308-passenger Wind Surf is three times the size of Windstar's smaller ships (the Wind Star and Wind Spirit), but it's based on the same design and unique sail technology.
---
---
Photo copyright © Windstar Cruises.