Wind Surf Photos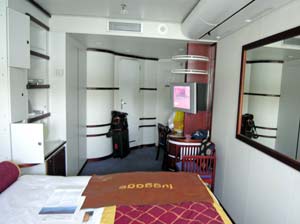 Stateroom
Back on board, the cabins offer offer an attractive decor that could be described as "what Philippe Starck might design if he were a naval architect." The photo above shows cabin 139 as it appeared when I walked in, with a vinyl luggage mat and a ship's newsletter atop Windstar's new luxury bedding.

Wind Surf's staterooms don't have balconies or picture windows, but they do have two portholes (four in suites) that admit plenty of light and complement the maritime decor. The portholes are recessed into a niche that you can cover with blackout curtains for sleeping.
Note: You can see my 21" carry-on suitcase just inside the door--a testimony to the Wind Surf's "casual elegance" dress code, which didn't require me to bring a suit or tuxedo.
---
---