Arles
From: Viking River Cruises: Southern France cruise review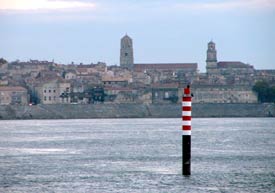 ABOVE: Arles, at the top of the Rhône Delta, was the southernmost port on the MS Maribelle's Southern France cruise itinerary.
From Les Baux, the coaches took us to Arles, the capital of France's Camargue region, where our guides led us on a walking tour of the city.
Arles, was a Roman colony from 125 B.C. until the 6th Century A.D. Its Roman Arena, which is more than 2,000 years old, is still used for Spanish and Camargue-style bullfights.
The arena was also used for a chase scene in the 1998 action movie Ronin with Robert De Niro and Jean Reno.
In more recent times, Arles inspired more than 200 paintings and 100 drawings by Vincent Van Gogh, who lived in the city from 1888 to 1890. The Café Terrace, a.k.a. the "Yellow Café," is still serving drinks in the same location where Van Gogh painted its awnings, tables, and patrons more than a century ago.
After our rather hurried walk around the town, we returned to the MS Maribelle, which had arrived from Avignon. The next excursion on our schedule was Roman Aqueduct of Pont du Gard, which is described on the next page.
For more information on Arles and the surrounding region, see:
Cruise Photos: Arles europeforvisitors.com
Next page: Pont du Gard
---
---
---
---