Cabins and suites on L'Austral

L'Austral has 132 cabins and suites, mostly on Decks 3 through 6. The majority are "prestige" and "deluxe" staterooms, which measure 200 square feet or 18.5 m² and have small balconies.
Eight "superior" staterooms that lack balconies, but which feature large windows and sofas, are good choices if you're traveling with small children or want to save money.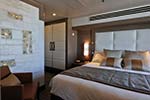 The ship also has a small number of suites, ranging from "deluxe suites" (about 50 per cent larger than balcony stateroms, with separate bathtub and shower) to "prestige suites" (two adjoining staterooms back to back, with a tub in one of the bathroms and a seating area instead of a bed in one cabin).
If you're a high roller, you can book the "owner's suite" on Deck 2, which has an area of 484 square feet (45 m²), a long balcony, and two bathrooms, with both a shower and a Jacuzzi in the master bath.

We were booked into a prestige stateroom on Deck 5, a few doors behind the bridge. The cabin was smaller than its counterparts on some other luxury ships (such as Silversea's Silver Spirit, which we'd cruised on two months earlier), but it was comfortable and well-equipped. It did have one layout oddity: The toilet was in a separate compartment from the main bathroom.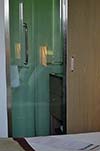 At first, we thought the separate WC compartment was just a quirk of French taste, like the claustrophobic toilet rooms in many Paris apartments. Upon reflection, however, the design made sense:
The main bathroom features a transparent glass wall with a sliding privacy panel. During L'Austral's Antarctic cruises, when passengers don't want to miss any views of whales or icebergs, being able to shower or brush one's teeth while keeping an eye on the horizon is a plus.
Other observations about L'Austral's cabins:
The shower stalls are unusually roomy, with glass doors, large shower heads, thermostatic temperature controls, and retractable clotheslines. (We also liked our shower's sealed wooden floor, which had good traction when wet.)

All cabins and suites come with hair dryers, minibars, flat-screen TVs, DVD/CD/iPod players, bathrobes, and optional Wi-Fi Internet access. Room service is available 24 hours a day.

Hand laundry took a long time to dry in the bathroom during our L'Austral cruise, so we--and some European passengers of a hillbilly persuasion--often hung clothes on the balcony during hot, sunny, windless days when the ship was in port. (We suggest bringing bungee cords and small plastic clothespins to string an improvised clothesline between the wicker chairs.)

The bottle of mineral water next to the ice bucket is free--not a sleazy attempt to nickel-and-dime you, like the bottled water in so many other hotel rooms and cruise-ship cabins. What's more, it will be replaced as needed throughout the cruise.