ABOVE: Alain Morville, executive chef of Compagnie du Ponant, and executive chef Guillaume Guertin of L'Austral. TOP INSET BELOW: Pastry chef Lionel Douteau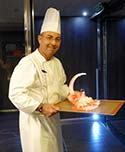 The French take their food seriously, so it shouldn't be surprising that Compagnie du Ponant does, too. We can say unequivocally that L'Austral's cuisine is at least equal to the food we've enjoyed on other luxury lines, and in some areas--most notably, breads and pastries--Compagnie du Ponant's offerings would rank at the top of any culinary critic's "best food afloat" list.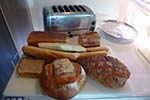 (Special kudos to pastry chef Lionel Douteau, whose desserts taste as good as they look, and to boulanger Mathieu Flaugier, who deserves a nomination to the Maritime Artisan Bakers' Hall of Fame.)
Restaurants
L'Austral may be a small ship, but it's big enough to have two restaurants:
The Gastronomic Restaurant on Deck 2 is the main dining room. It has a capacity of 268 diners, or nearly all of the passengers and ship's officers. Reservations aren't needed, even at dinner: Just show up, and the maitre d' will find you seats at a table with other passengers who speak your language, or alone if a small table is available and you prefer to dine singly or à deux.

The

Grill Restaurant

on Deck 6 is a casual buffet by day and a restaurant at night. Several of our fellow passengers preferred it to the Gastronomic Restaurant because it offered a wider choice of "plain food" during our culinary-themed voyage. It also has outdoor seating (reservations recommended, with priority given to guests in suites).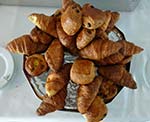 We ate most of our meals in the Gastronomic Restaurant because it was less busy than the Grill Restaurant at breakfast and lunch and was closer to the waves.
One nice touch: When we walked through the Grill Restaurant at lunchtime, we saw Guillaume Guertin--L'Austral's executive chef--personally handling the ladle at the soup pot.
Note: Wine and mineral water are complimentary at meals. (You can order from a premium wine list if you wish, but the wines of the day will please most palates.)
Room service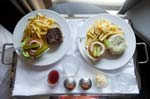 L'Austral offers room service 24 hours a day, and the menu is fairly extensive. You can choose from soup, salads, sandwiches, burgers, and grilled sirloin or steak, with crème brulée, fruit salad, or a cheese plate for dessert. (When we ordered burgers from room service, they were cooked medium-rare--as we'd requested--and the pommes frites were still hot when they arrived at our cabin.)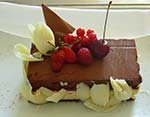 On Durant's birthday, the room-service waiter delivered a late-afternoon surprise: a beautiful small cake of dark and white chocolate with plates, forks, and napkins. It was a nice gesture, and it was more discreet than having waiters sing "Happy Birthday" in the dining room, as might have been done on some cruise ships.
Bars and lounges

L'Austral has bars in the Main Lounge on Deck 3, in the Observation Lounge on Deck 6, and overlooking the Pool on Deck 7. Drink prices are comparable to what you might pay at a bar or café in a major European city: anywhere from € 4,50 for a lager to € 10 for a typical cocktail.
If you and your companion are enthusiastic drinkers, you can buy an "Open Bar Package," which was priced at € 30 (single cabin) or € 60 (double cabin) during our cruise.
New World residents, take note: Fares for North and South American passengers now include unlimited bar and minibar drinks.