Mais ouis, if:
Maybe not,  if:
You eat pommes frites with a fork.
You eat chips or freedom fries with your fingers.
In high school or college, you studied French.
At the corner tavern or pub, you say "Pardon my French."
Your favorie actress is Emanuelle B

é

art.
Your favorite actor is Bart Simpson.
You dream of owning a yacht.
You dream of owning an aircraft carrier.
If you're a man, you pack a necktie for the Captain's Dinner.
If you're a man, you pack a tuxedo for the Captain's dinner.
If you're a woman, your favorite accessory is a scarf.
If you're a woman, your favorite accessory is an evening gown.
You want to experience Europe 24/7.
You want to leave Europe behind when you return to the ship.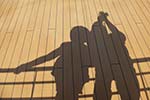 But seriously, folks...
Compagnie du Ponant offers a delightful cruising experience for travelers who enjoy mingling with other nationalities, dining on fine food without having to endure "formal nights," and being in a minority on a ship where English is spoken but French is the primary language.
To put it another way, if you love French movies or vacations in Paris, a cruise on L'Austral or one of its sister ships should be on your bucket list.
Fares, more information, and bookings: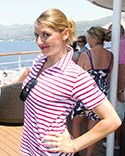 Compagnie du Ponant is a luxury line, and a cruise on L'Austral is likely to cost more per day than a cruise with a mainstream cruise line such as Princess, P&O, Royal Caribbean, Celebrity, or Holland America.
Still, special offers can bring the cost down considerably, and cruises early or late in the season may be cheaper than high-season itineraries. (It's also worth remembering that Compagnie du Ponant's fares include wine at meals and, in some cases, bar drinks and crew tips.)
To check fares and special offers--or to learn more about L'Austral and Compagnie du Ponant's other ships--visit the cruise line's Web site at www.ponant.com.