L'Austral cruise review
Page 5
Continued from page 4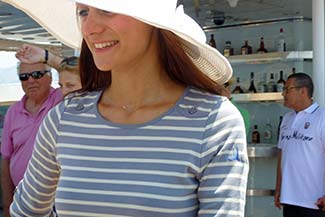 ABOVE: An artiste of the Ballet Paris C'Show models a hat and clothing from L'Austral's boutique.
Other amenities
Entertainment. L'Austral can't begin to rival megaships like Oasis of the Seas or MSC Divina as a show venue, but it does does have just enough entertainment to please guests who need something to do while sipping apéritifs or digesting their dinners.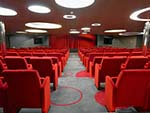 On a typical seven-day voyage, L'Austral will have a couple of modern-dance shows in the Theatre, with artists of the Ballet Paris C'Show peforming choreographed numbers (occasionally with lip-synching) to music from A Chorus Line and other productions.
During our cruise, we preferred the cozier style of entertainment in the Main Lounge, where Giliola and Daniel (a vocalist and a singing pianist) performed music that ranged from American country hits to "the most beautiful French songs" wth personality and panache.
In-cabin entertainment options include TV channels, streaming movies, and DVDs. We didn't take advantage of these, since it didn't make sense to watch TV in our cabin during a port-intensive seven-night cruise.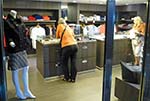 Boutique. You won't find jewelers, duty-free stores, art auctions, or "gold by the inch" vendors on L'Austral, but the ship does have a well-equpped shop where you can buy clothing, gifts, souvenirs, postcards, and necessities.

Spa and beauty center. L'Austral's spa offers the usual array of massages, spa rituals, and beauty treatments, along with a complimentary hammam or steam room.
One nice feature: The spa's treatment room opens onto veranda where guests can sit in their bathrobes  and enjoy refreshments after being pummeled, steamed, or painted.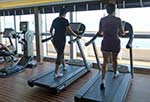 Fitness center. For its size, L'Austral has a surprisingly well-equipped gym, with treadmills and other machines that face a row of floor-to-ceiling windows.
During the passenger orientation, Jérome Pierre--the ship's cruise director--suggested that guests "go to the gym, sit on an exercise bike, and enjoy the view."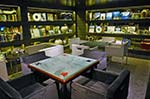 Library and Internet access. The Observation Lounge on Deck 6 has a small Library where you can read coffee-table books, borrow from a small selection of English-language hardcovers and paperbacks, play cards or board games, and--at extra cost--access the Internet from one of several PCs.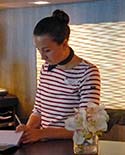 Guests with computers or smartphones can pay for Wi-Fi by the minute or buy Wi-Fi packages (e.g., 100 or 250 minutes) at Reception.
Caveat: We found that L'Austral's satellite download and upload speeds were painfully slow during our cruise. One Australian passenger had a better solution: In Croatia, he bought a prepaid data SIM card for his unlocked smartphone and checked his e-mail whenever the ship was in port or close to shore.

Children's activities. L'Austral doesn't have a children's program per se, but an unsupervised "Kids' Club" area on Deck 5 has sofas, carpet to crawl on, a piano, a TV, and assorted toys. Children can also use the Wii game console in the Main Lounge.
On our cruise, we saw two babies, several children of elementary-school age, and a teenager or two. All were well-behaved, and they were very much a part of things.
For example, at a chocolate truffle-making demonstration with free Champagne, the waiters served apple juice to children in the audience.
Photos and videos. Like many cruise ships, L'Austral has a ship's photographer and videographer. If being the target of paparazzi annoys you, heed the advice of cruise director Jérome Pierre: "L'Austral is a French ship, so if you've brought your niece along to show her Dubrovnik, just tell the video guy and he'll look the other way."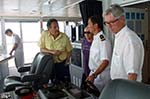 Open bridge. We've saved L'Austral's best amenity for last: On most days, the door to the bridge is open for two hours in the morning, and passengers can wander in to chat with the officers on duty, take pictures of the navigation equipment, or simply enjoy the view. (In the inset photo, passengers are talking to Captain Rémi Genevaz.)
Next page: Shore excursions, tenders
---
---
---