L'Austral Cruise Photos
From: L'Austral cruise review
Text by Durant Imboden
Most photos by Cheryl Imboden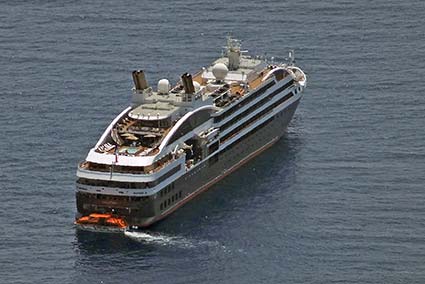 ABOVE: A tender returns to L'Austral from the Old Port in Dubrovnik, Croatia.
Our photo gallery for Compagnie du Ponant's L'Austral is presented in three parts:
A ship tour, which takes you through L'Austral deck by deck.

A gastronomy section that covers food, wine, and gastronomic events during our cruise (which was co-hosted by a Marie Claire Group magazine, Cuisine et Vins de France).

A day-by-day cruise photo diary, featuring Venice and half a dozen Adriatic ports of call in Croatia.
Please note:
Each page has multiple photos with captions (normally half a dozen or more), arranged by topic. This means you won't have to click your way through a slide show.

L'Austral's Adriatic itineraries vary slightly, depending on departure date. Some cruises feature special themes such as opera, golf, beauty, or gastronomy. When planning your own voyage on L'Austral or its sister ships, study the itineraries on Compagnie du Ponant's Web site to find the cruises that are most appealing to you.