ABOVE: A quiet morning by the pool, with Croatia's coast in the distance. INSET BELOW: L'Austral in the bay of Dubrovnik, swimming from the Marina, an outdoor ladder, a Zodiac boat for polar expeditions, returning to L'Austral by tender, a crew safety drill, and an electric wheelchair lift.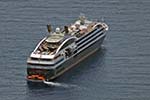 The first thing you'll notice when you see L'Austral alongside other cruise ships is its size: With a gross rated tonnage of 10,700 and a maximum passenger count of 264, the ship is downright petite by today's cruise-ship standards. (To give you some perspective, the largest cruise ship in regular service from Venice is MSC Divina at 139,400 GRT and 3,274 passengers--more than 12 times the capacity of L'Austral.)
Despite its cozy dimensions, L'Austral has all the features that you'd expect on a full-service cruise ship--including a choice of restaurants, bars, lounges, a theatre, and even a ship's hospital for medical emergencies.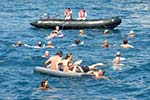 The ship is also equipped with two features that most cruise ships don't have: a marina on the stern where passengers can go swimming when time, weather, and local regulations permit; and a fleet of davit-launched Zodiac inflatable boats for expedition landings in polar regions.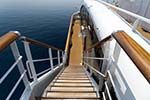 Layout. Most passenger activities on L'Austral take place on six passenger decks, which are connected by an indoor stairwell, three elevators, and outside stairs on the open decks. Distances are so short that you can go from the aft lounge on Deck 3 to the library on Deck 6, or from your cabin to either of the ship's two restaurants, in practically no time.
L'Austral is the first ship we've been on where we could find each other easily without advance planning (and without the walkie-talkies that passengers sometimes carry on megaships).
Open decks. L'Austral has more open deck space than you might expect on a relatively compact ship. On Deck 3, next to the Reception area, there are small (and sheltered) open decks to the port and starboard. You'll also find open aft decks on Deck 5 (behind the Spa), Deck 6 (Pool and outdoor tables at the Grill Restaurant), and Deck 7 (open-air bar).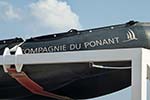 On Decks 6 and 7, you can enjoy the sun or fresh air on large terraces overlooking the bow. And on Deck 7 (our favorite), you can walk aft through the Zodiacs and rescue boats and feel that you're on a working ship.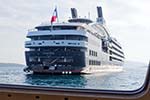 Comfort. L'Austral may be the quietest ship we've ever cruised on. During our cruise, vibration from the engines was non-existent, and the only noise that caught our attention was the sound of the anchor chain paying out during arrival in tender ports.
Like all modern cruise ships, L'Austral has stabilizers to minimize rolling in rough seas. (L'Austral was built for cruising to Antarctica through the Drake Passage--one of the roughest bodies of water in the world--so its stabilizers should be able to handle any seas that the ship is likely to encounter in the Mediterranean.)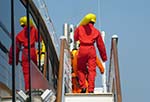 Safety. L'Austral is a new ship that meets today's international safety standards. Its two large tenders double as fully-enclosed lifeboats, it also has Zodiacs and rescue boats, its lifejackets incorporate safety features that we haven't seen on other cruise lines, and the crew takes safety seriously: During our cruise, we saw men in orange jumpsuits performing a damage-control drill and a rescue drill with a dummy.
Accessibility. L'Austral (like Le Boréal and Le Soléal) has a handful of cabins for disabled guests, and elevators connect all decks.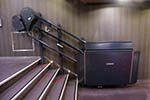 However, the ship does have one potential annoyance for handicapped pasengers: Decks 6 and 7 are split-level, requiring guests in wheelchairs to use electric stair lifts or detour via the lower decks by elevator when going fore and aft. Also, many of L'Austral's ports require going ashore by tender, which may be inconvenient in a wheelchair. We suggest that disabled travelers study L'Austral's itineraries carefully before booking.