L'Austral Cruise Photos
From: L'Austral cruise review
Day 4: Dubrovnik, Croatia (2)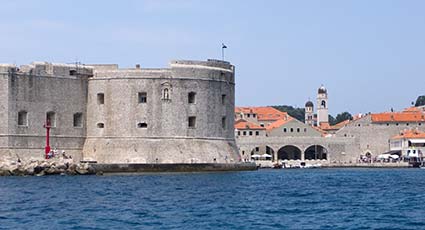 The trip by tender lasted only a few minutes. As we approached the city, we could see St. John's Fort and the Old Harbor through the boat's open doorway.
---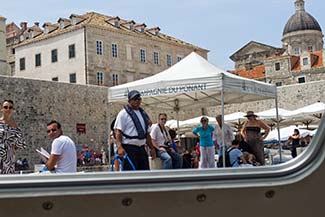 The tender delivered us to a stone pier in the Old Harbor.
---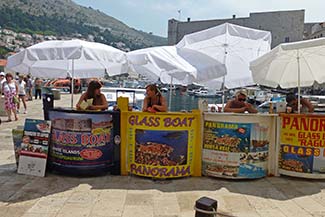 Near the tender landing, young women sold tickets for glass-bottom boat tours and excursions to Lokrum Island.
---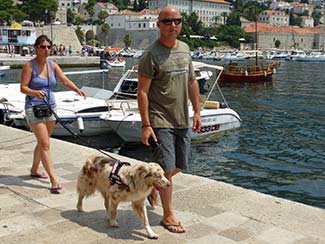 A couple and their dog enjoyed a morning stroll on the waterfront.

---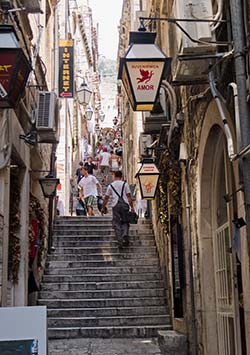 We'd visited Dubrovnik several times previously, so today, we were starting our day with something different: a ride up Mount Srd (the hill behind the city) on the Dubrovnik Cable Car.
To reach the lower station, we headed up a side street on the north side of the Old City.
---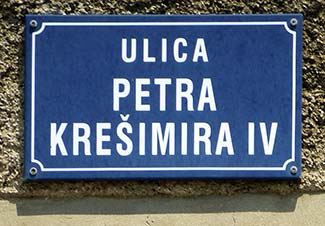 The cable car's valley station was on a busy east-west street called Ulica Petra Krešimira, just north of the Old City's walls.

---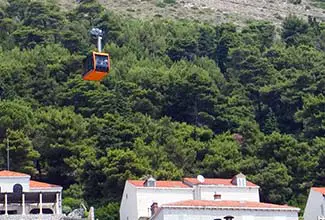 The station was easy to find: All we had to do was follow the descending cable car.
---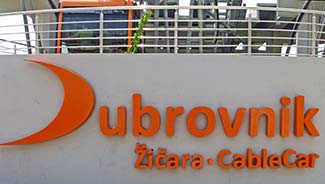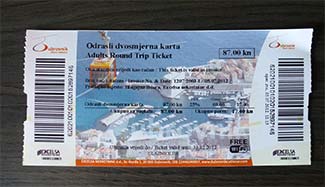 We entered the station, bought our tickets (87 kuna, or about 12 euros each), and waited a few minutes to board the aerial cable car.
---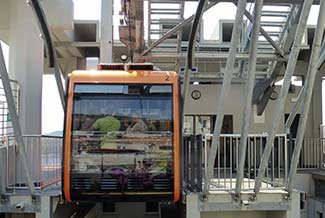 The Dubrovnik Cable Car has two cabins or gondolas that counterbalance each other: As one goes down, the other goes up. Each cabin holds a maximum of 30 passengers and takes slightly less than four minutes to cover the 405 meters or 1,329 feet from sea level to the top of the mountain.
---
In this telephoto picture, which Cheryl took from the lower station, you can see both of the cable car's gondolas and the single pylon that supports the cables between the two stations.
---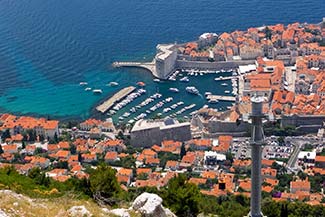 We took this photo about midway through the ascent, just after passing the pylon (the grey column on the right side of the picture). In it, you can see the city walls and boats in the Old Harbor.
---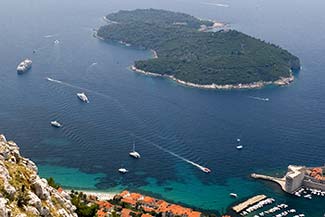 This view shows Lokrum Island, which is a 15-minute boat ride from the Old Harbor. The island--a nature reserve--is popular for picnics, swimming, and forest walks. It has a small naturist beach and a hilltop fortress that's open to the public.
---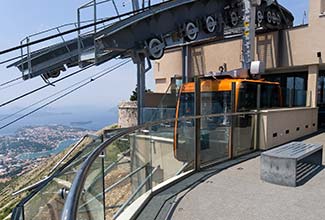 After enjoying the views and grabbing a few snapshots, we reached the upper station atop Mount Srd. The air was pleasantly cool, compared to the hot July temperature at sea level, and there was a steady breeze.

---
---
---
---
---