L'Austral Cruise Photos
From: L'Austral cruise review
Gastronomy (3)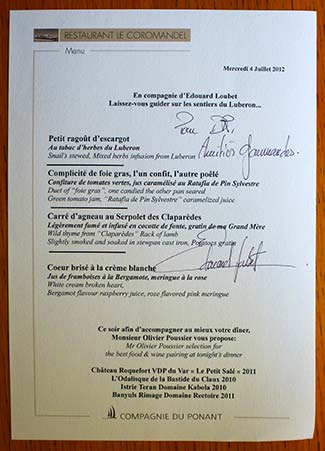 One of the special dinners during the cruise was created by Edouard Loubet, proprietor and chef of La Bastide de Capelongue (a restaurant and hote in Provence that has been awarded two Michelin stars).
Before each course, the chef came out to explain what we'd be eating. The best course may have been the petit ragoût d'escargot, a plate with about half a dozen snails in a "mixed herbs infusion" sauce inspired by the garden of M. Loubet's grandmother. The sauce was both unique and sublime.
After the meal, passengers applauded M. Loubet (some stood, shouting "Bravo!"), and the chef signed the guests' menus like a bestselling author at a literary event.
---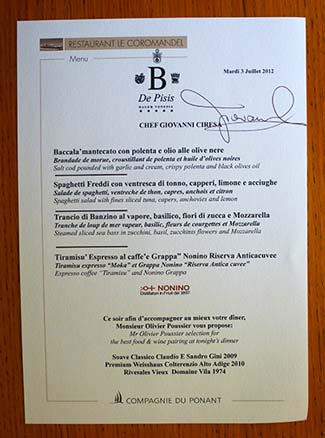 Another meal was presented by Giovanni Ciresa, chef of De Pisis, the gastronomic restaurant at the five-star Hotel Bauer in Venice, Italy. His meal featured Venetian dishes: After an appetizer of baccalà (salt cod), we were served spaghetti with tuna followed by steamed branzino or sea bass. Dessert--espresso tiramisu--was spiked with a fine Italian grappa.
---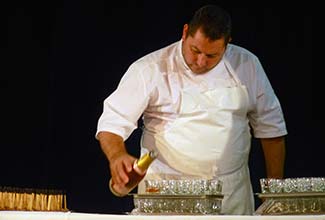 A third dinner was planned and supervised by Alain Morville, the executive chef of Compagnie du Ponant. (Food writer Dorie Greenspan described her own delightful culinary experiences with M. Morville and Compagnie du Ponant in her blog.)

---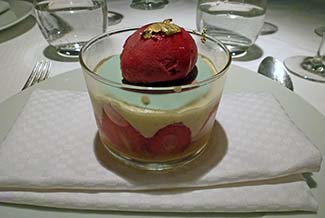 Another dinner featured an elaborate dessert by Gilles Marchal, Pastry Chef of the Year in 2004. The menu described it as "fraisier en transparence, crème légère à la vanilla Bourbon," or--in English--"strawberry sponge cake, light Bourbon vanilla cream."

---
---
---
---
---