L'Austral Cruise Photos
From: L'Austral cruise review
Gastronomy (4)
Gilles Marchal, Pastry Chef of the Year in 2004, is both a pâtissier and a chocolatier. He has co-authored two books, one about chocolate and the other with a strawberry theme. (According to an article in Athens News, M. Marchal has been called "Monsieur Chocolat" by no less a personage than the legendary chef Paul Bocuse.)
During our cruise, Gilles Marchal presented a dessert-making demonstration in L'Austral's Theater. The chocolate dessert had a title that was nearly as elaborate as the finished product: "Truffes à l'infusion de thé plongée dans un Champagne rosé."
---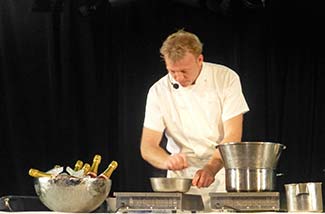 While scores of chcolate-loving gastronomes (and a sprinkling of children) watched attentively, M. Marchal went to work onstage.
The recipe involved making a chocolate ganache that was infused with red tea--or, more precisely, thé aux 4 fruits rouges.
After 15 minutes of chilling, the ganache was sliced into small squares. M. Marchal then inserted a toothpick into each square, dipped each square into dark chocolate, and plunged the coated square into a glass of pink Champagne.
---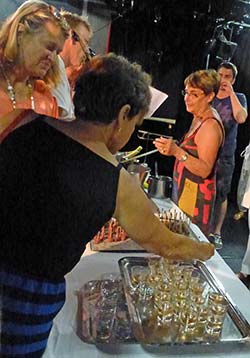 Passengers were invited to come onstage and sample the finished truffles.
---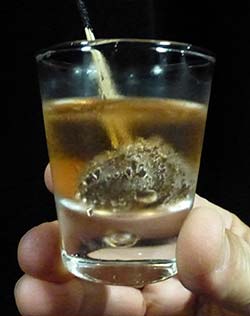 Voilà: A chocolate truffle infused with red tea and dipped in pink Champagne.
(At the demonstration, teetotalers and children could request a version made with apple juice instead of wine.)

---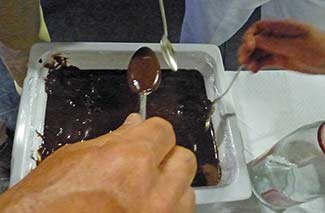 But wait, there was more! After everyone had enjoyed a truffle (or two, or three), passengers were given spoons for scooping up the remaining ganache.
---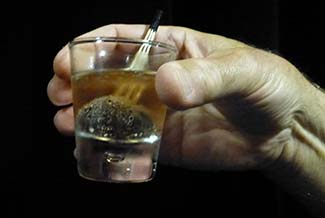 Thanks to Gilles Marchal's solid-meets-liquid truffle recipe, we were able to say "Bon appetit" and "Tchin tchin" in a single toast.
---
---
---
---
---