L'Austral Cruise Photos
From: L'Austral cruise review
Day 5: Mouth of Kotor and Mljet, Croatia (4)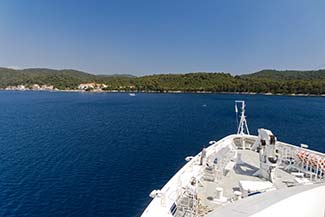 L'Austral reached the harbor of Pomena, a resort village at the western end of Mljet (pronounced "myet"), shortly after 3 p.m.
---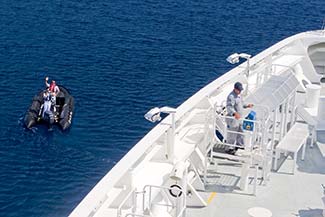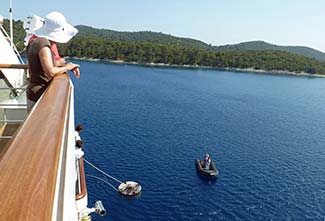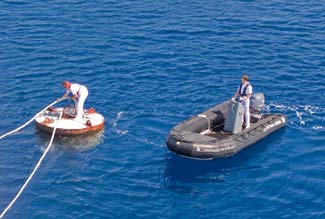 In this port, there was no need to lower the ship's anchor. Instead, two officers climbed into one of L'Austral's Zodiac inflatable boats, sped around the bow, and tied a line to a mooring buoy in the harbor.
---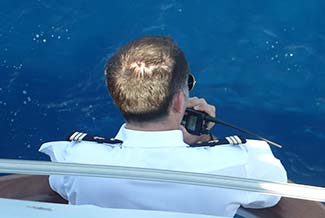 Another officer directed nooring operations from the Bridge.
---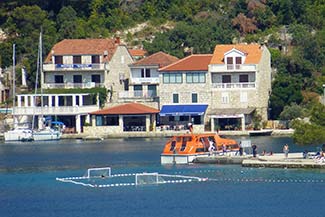 Within minutes, L'Austral's crew lowered a tender and dispatched sailors to the Pomena waterfront, where the sailors set up the usual tent, chairs, and cooler with bottled water.
(In the foreground, you can see a water-polo court. Water polo is a popular sport in Croatia, and the Croatia men's team won a gold metal in the sport at the 2012 Olympic Summer Games in London.)
---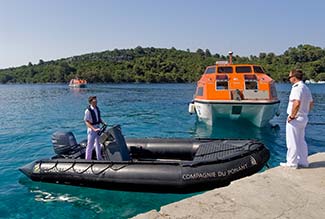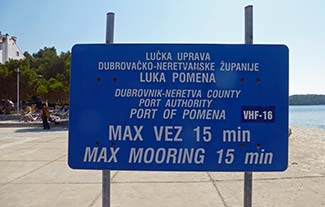 A sign on the pier warned that the maximum mooring time was 15 minutes. (This wasn't a problem for L'Austral's tenders, which remained at the pier for only a few minutes between shuttle runs to or from the ship.)
---
---
---
---
---