L'Austral Cruise Photos
From: L'Austral cruise review
Day 7: Rab, Croatia (4)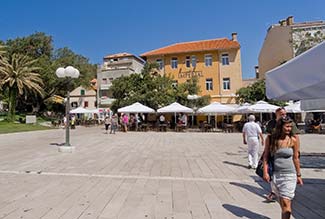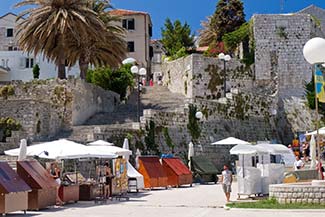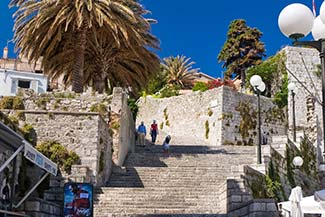 From the lower level of Kaldanac (Rab's old town), we exited into the main square. Here, just beyond a small number of market stalls, a stairway led uphill to the street of Gornja Ulica.
---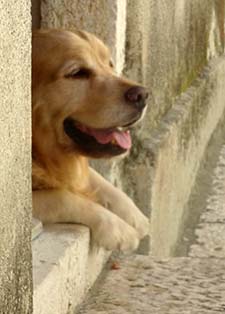 What could be more appealing (or more alliterative) than a dog in a doorway?
---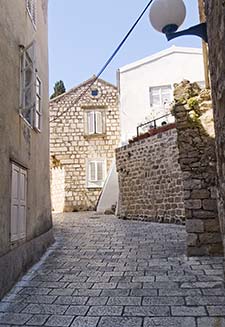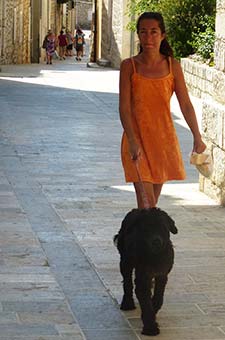 The streets in the upper section of town seemed empty until another dog (this one accompanied by a human) came along.
---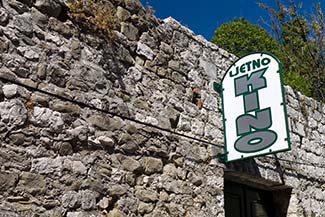 Just after our second canine encounter, we passed Rab's Summer Cinema.
---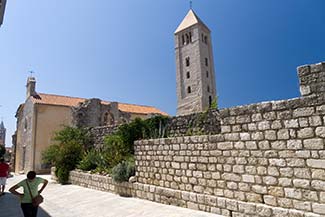 The upper town's main attraction, the Church and Monastery of St. John the Evangelist, was only a few meters beyond the cinema.

---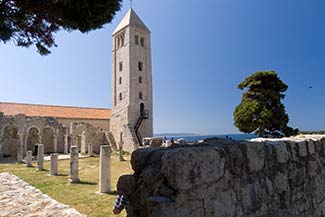 Rab's tourist office states that "The Church of St. John the Evangelist is the only medieval sacral stucture of the Proto-Romanesque style with deambulatory (passage around the altar) in the sanctuary on our territory."
---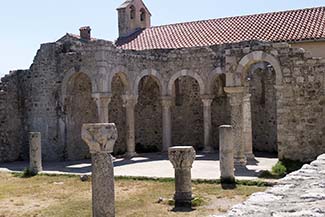 If you prefer a simpler description, we'll tell you that the monastery is mostly ruined, the church bell tower is intact, and there are great views from the site (which is high on a cliff overlooking the sea). Admission is free, so visiting the grounds is a no-brainer once you've climbed the steps from Rab's main square.
---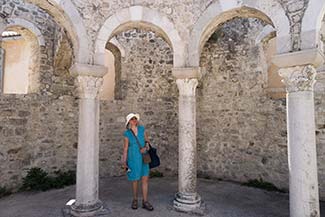 In this photo, Cheryl is admiring the ruins of the ancient basilica (and enjoying a moment of shade on a hot, sunny day in July).
---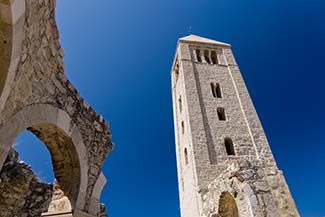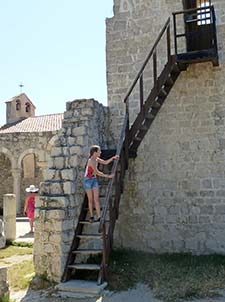 Several visitors posed for snapshots while we were admiring the restored bell tower.
---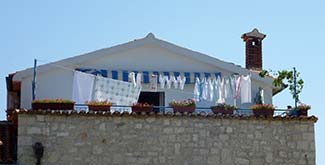 Just beyond the ruins, an apartment-dweller was drying laundry on a roof terrace overlooking the grounds.
---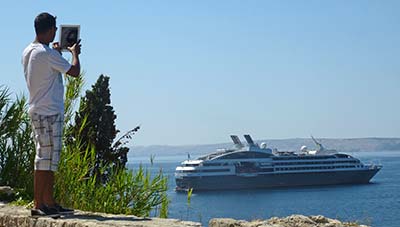 A visitor from L'Austral stood on a wall next to the belfry and took pictures of the ship with his iPad.
---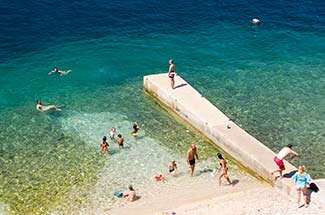 Below, at the foot of the cliffs, families were swimming and diving in the warm, clear waters of the bay.

---
---
---
---
---