L'Austral Cruise Photos
From: L'Austral cruise review
Ship tour (5)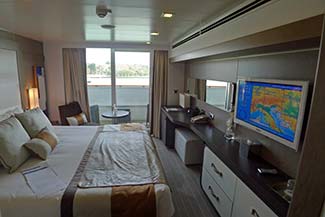 Deck 5 was also the location of our cabin, No. 505. Our cabin was a typical "Prestige Stateroom" with a small private balcony.
---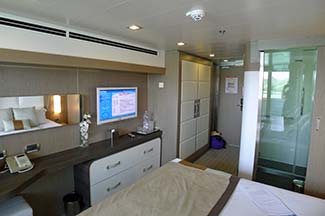 In this photo, you can see the glass wall of the bathroom, which lets passengers enjoy views of the land or sea while showering or standing at the sink. (The glass can be covered with a sliding panel for privacy.)
---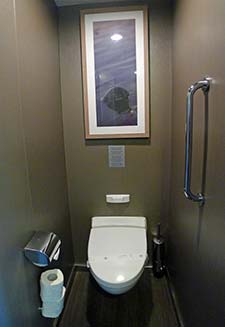 Each stateroom and suite on L'Austral has a separate compartment for the toilet or WC. This can be mildly annoying at first--among other things, it means another door to get in the way when you're trying to reach the closet--but we quickly got used to it.

---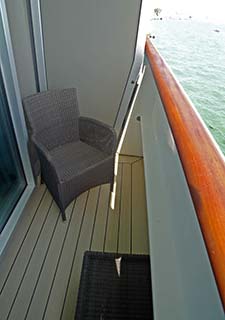 Balconies on L'Austral have steel walls, rather than the plexiglass used on some cruise ships. There's a reason for this: L'Austral spends several months a year in Antarctica, and steel is more reassuring than plexiglass when a ship is fighting rough seas in the Drake Passage.
During her first visit to our cabin's balcony, Cheryl noticed that she couldn't see over the railing while seated. (She's about 5 feet 6 inches or 170 cm tall.) Her view improved markedly when she found our seat cushions, which had been stowed beneath the table, and placed a cushion on her chair.

---
---
---
---
---