L'Austral Cruise Photos
From: L'Austral cruise review
Ship tour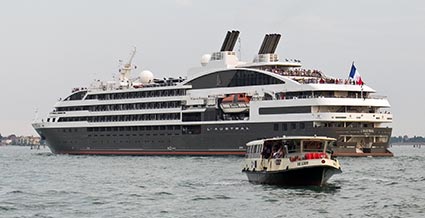 Our ship's tour begins with a view of L'Austral departing Venice, Italy. (We took this photo two weeks before our cruise, when the ship was leaving on an earlier voyage.)
In the photo, you can Decks 2 and 3 in the charcoal-grey hull and Decks 4, 5, 7, and 7 in the white section of the hull and superstructure.
---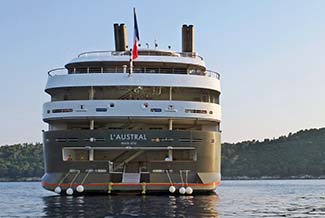 This aft view shows L'Austral's Marina for tendering and swimming, which projects from the stern just below Deck 2. The Marina is also used to load passengers into Zodiac inflatable boats during expedition cruises in polar regions.
---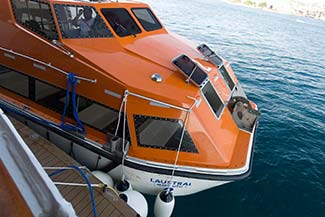 Here, you can see one of L'Austral's two tenders moored to the Marina.
During our week-long cruise, we went ashore by tender in five of the six ports that L'Austral visited. The tenders ran almost continuously throughout the day in each port, and we never had to wait more than a few minutes for a boat.

---
---
---
---
---