L'Austral Cruise Photos
From: L'Austral cruise review
Day 1: Venice Departure (2)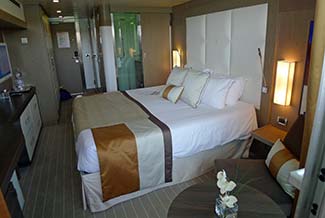 After boarding, we headed for our cabin (No. 505, on Deck 5 or "Deck Bengale.")
We described our cabin in detail on page 5 of our ship tour, so we'll show only one more photo here: a picture of the L'Occitane soap and toiletries that were a welcome sight after a hot, sweaty day in Venice.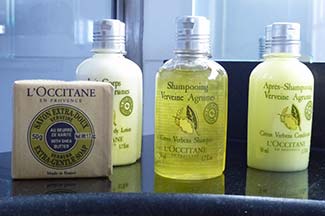 Tip: If you'd like to know more about L'Austral's staterooms, see the cabins and suites page of our eight-page L'Austral cruise review.
---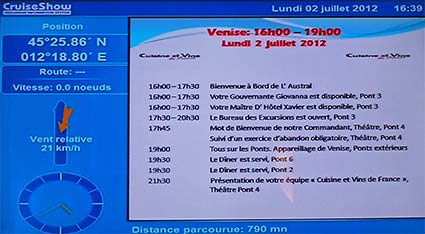 After unpacking and going to the theatre for a welcome by Captain Rémy Genevaz and his senior staff, we returned to our cabin to fetch our lifejackets for an exercice d'abandon obligatoire. (That was what the daily program on our TV called it; our printed English-language program described it as a "Mandatory Life Boat Drill.")
---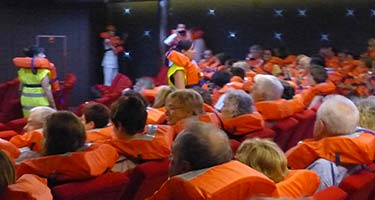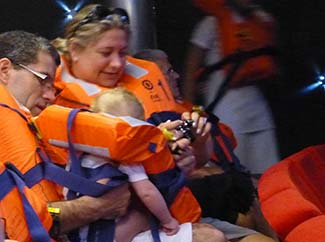 Because L'Austral is a tiny cruise ship by today's standards, it requires only two lifeboats and two muster stations. Passengers for groups "A" and "B" report to the Theatre on Deck 4 in emergencies, sitting on the port or starboard side according to their lifeboat assignments.
---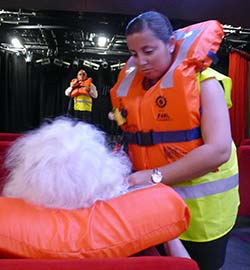 In the Theatre, crew members showed how to wear the lifejackets correctly, and they explained the lifejackets' clever features (such as a loop of webbing on the back of each vest to help a rescuer or lifeboat captain haul a floating passenger out of the water).

---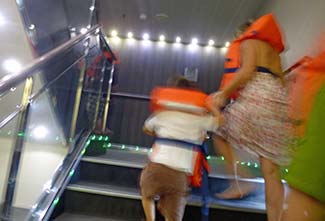 Our recollection of what happened next is a blur, but we do remember being asked to place a hand on the shoulder of a person in front of us while going up to our lifeboat station on Deck 5.
---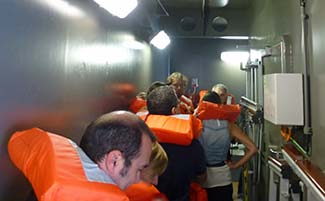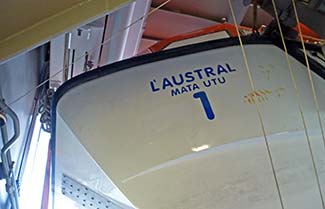 The conga line tended to fall apart on the stairs, but as far as we know, everyone made it to the lifeboats.
---
---
---
---
---