L'Austral Cruise Photos
From: L'Austral cruise review
Day 1: Venice Departure (3)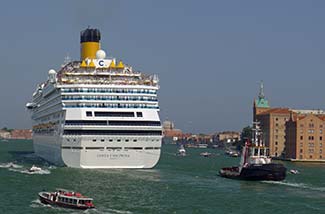 While we waited to leave the San Basilio terminal, a much larger ship--Costa Fascinosa--passed us in the Giudecca Canal. The 3,780-passenger megaship dwarfed L'Austral, the water bus in the foreground, and even the Hilton Molino Stucky hotel (right side of photo).
---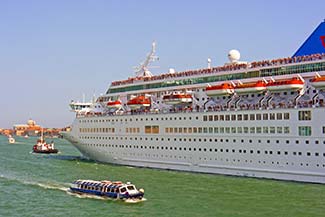 Another large ship, Thomson Majesty, followed Costa Fascinosa up the canal several minutes later.
---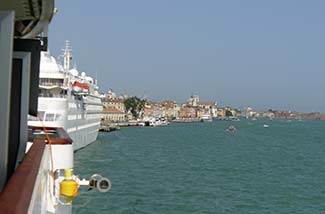 In the meantime, we waited our turn at the pier with Silversea's Silver Wind moored ahead of us.

---
We went topside to Deck 7 in time for L'Austral's 7 p.m. departure.
---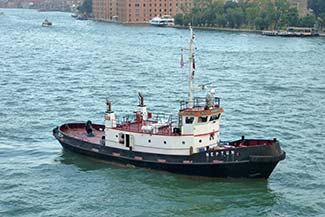 A tugboat was already waiting to escort L'Austral from the San Basilio pier to the Venetian Lagoon's deepwater ship channel.
---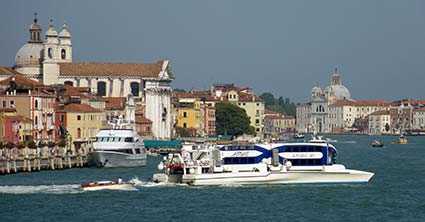 Up ahead, the excursion boat Adriatic Jet of Adriatic Lines was departing Venice for Istria in Croatia (a trip that would require only 2½ hours on the high-speed hydrofoil boat).
---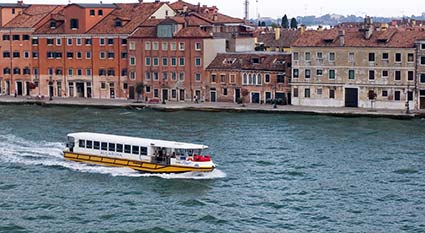 On our way up the Giudecca Canal, we crossed paths with an Alilaguna airport boat that was on its way to the Zattere waterbus pier and the Marittima ship basin.
---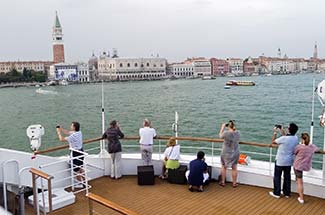 It wasn't long until we were cruising into St. Mark's Basin, passing the Campanile di San Marco (the bell tower at left) and the Doge's Palace on our way toward the Adriatic Sea.
Note: It usually takes a cruise ship between 45 and 60 minutes to travel frm the pier to the open sea, depending on where the ship is moored. The best scenery is in the first 30 minutes or so, when the ship cruises up the Giudecca Canal and along the waterfront between San Marco and the tip of Venice's historic center at Sant'Elena.

---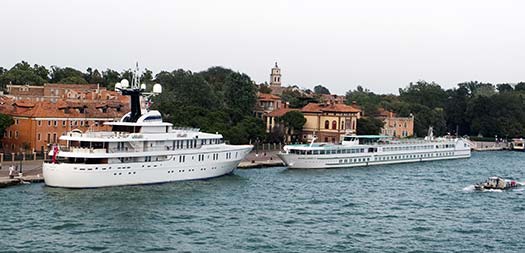 After passing the Doge's Palace, L'Austral cruised along the rive or pedestrian promenades that run from San Marco to Venice's public gardens and beyond. Along the way, we took this photo of a yacht and the CroisiEurope river vessel Michelangelo.
---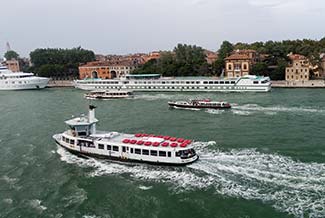 As always, the waters between central Venice and the Lido were busy with boat traffic. Here, you can see a motonave of Venice's ACTV transit agency heading for the waterbus station at San Zaccaria Pietà.
---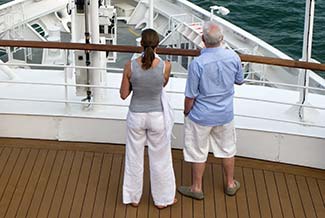 The day was warm, and many passengers stayed on deck to enjoy the views--or, in some cases, the comforting arms of papa: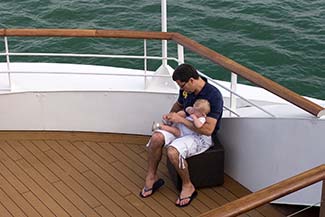 ---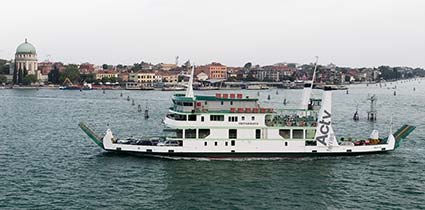 As we cruised by the Lido di Venezia, we encountered an ACTV car ferry--one of several that run back and forth between the Lido (Venice's resort island and dormitory suburb) and a pier near the Tronchetto parking garage.
---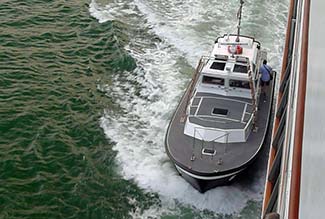 Just before 7:45 p.m. (about 40 minutes after we'd left the pier), a pilot boat collected the pilota.
---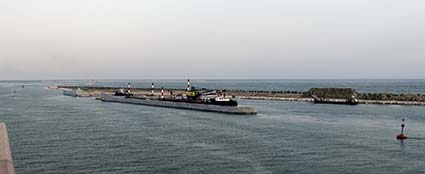 A few minutes later, L'Austral passed through the mouth of the Venetian Lagoon and entered the Adriatic Sea.

---
---
---
---
---