L'Austral Cruise Photos
From: L'Austral cruise review
Day 1: Venice Departure
Our embarkation process began with a trip on Venice's No. 2 vaporetto to the San Basilio cruise terminal, where L'Austral was moored.
Compagnie du Ponant doesn't allow boarding until late afternoon, but our official 5:30 p.m. boarding time turned out to be conservative: Earlier in the week, a security officer at the pier told us that we could expect boarding to begin around 3:30 or 4 p.m.
(Tip: The San Basilio terminal has baggage-storage lockers at a price of 4 euros per day, so you should be able to leave suitcases of normal size if you arrive in Venice early in the day and want to go sightseeing until boarding time.)
---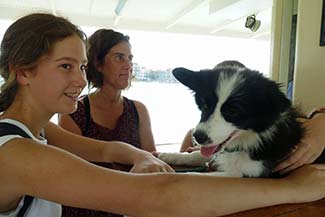 On the water bus, Cheryl had a chance to take her last Venice dog photo before our departure. The puppy in the picture was about four months old.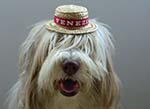 (If we seem obsessed with the canine side of Venetian life, there's a reason: We've spent several winters in Venice with our own dog Maggie, who's the protagonist of a "Maggie in Venice" dog blog at maggieinvenice.com.)
---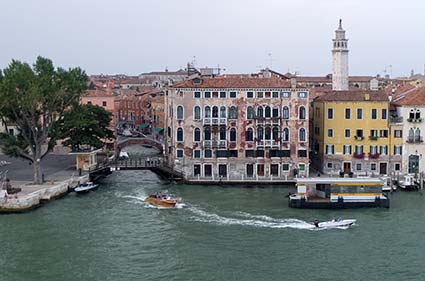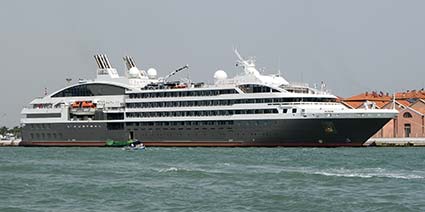 From the San Basilio vaporetto station (the yellow-and-white floating platform at right), it was a short walk across a low footbridge to the San Basilio cruise terminal, where L'Austral was waiting for us.
---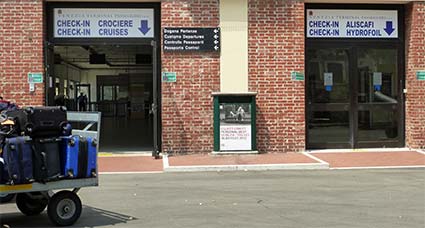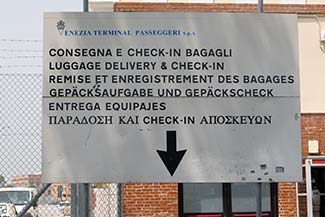 The entrances to the terminal were clearly marked. (The San Basilio terminal has two entrances: one for passengers arriving on foot or by boat, and another next to a road used by land taxis.)
---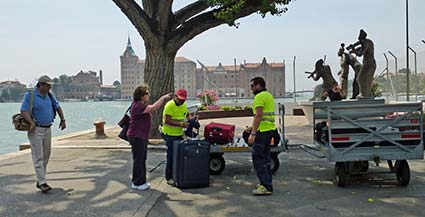 One thing that surprised us about L'Austral's embarkation procedures was how baggage was handled. We didn't have baggage tags (we'd received our cruise documents by e-mail), but the dock workers told us they weren't needed: L'Austral is such a small ship that the crew just checks names on incoming bags against a passenger list when sending luggage to cabins.

---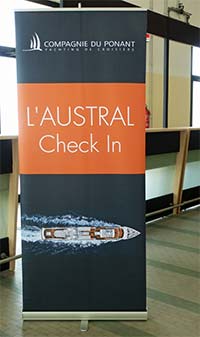 Embarkation began around 4 p.m. and took only a few minutes. (We were checked in by a dancer from the ship's entertainment company.)
---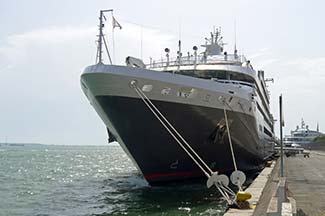 After showing our passports and cruise documents, we were given our key cards. We quickly went through security and walked along the pier to L'Austral.
---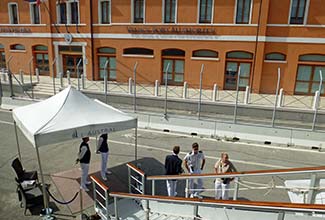 Cheryl took this photo from the top of the gangway as we boarded L'Austral.
---
---
---
---
---