L'Austral Cruise Photos
From: L'Austral cruise review
Day 2: Zadar, Croatia (3)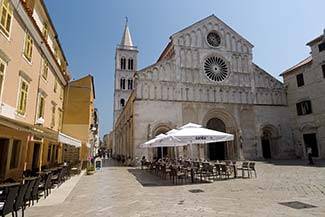 From the waterfront, it's a short walk to downtown Zadar and St. Anastasia Cathedral, which was begun in the 12th Century.
---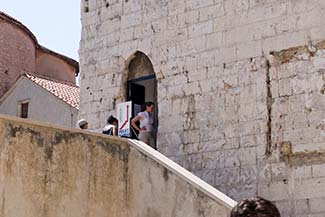 It was a hot day--probably around 30° C or 90° F--so we decided not to climb up the cathedral's tower.
---
Zadar's city center is a mixture of old and new buildings. Some of the old buildings are newer than they look: 65 percent of the city was destroyed by Allied bombing in World War II and reconstructed under Yugoslavia's Tito regime. More recently, during the war of 1991 to 1995, Serbian forces shelled the city and again turned much of the historic center into rubble.
---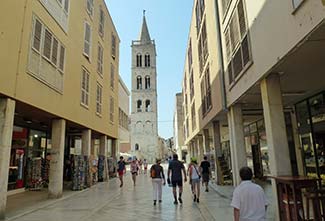 As we walked through the city center, we passed through a large pedestrians-only shopping district with a mixture of local and international shops.
---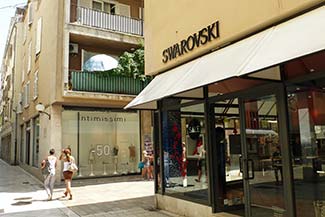 We could have stuffed our pockets with costume jewelry from Swarovsky, that staple of shopping malls and large cruise ships, but we we restrained ourselves and continued onward.

---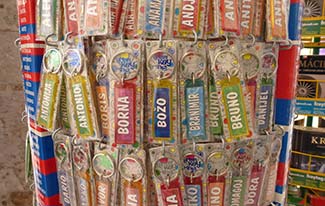 We skipped the chance to purchase a first-name keyring at this souvenir shop in downtown Zadar. (We also wondered how many parents name their children "Bozo.")
However, we did buy a spool of dental floss at a large health and beauty aids store--one of several such shops in Zadar, where beauty and dental health appear to be prized.
---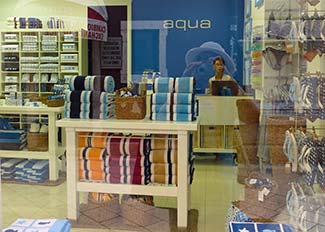 We saw two different branches of Aqua, a retail chain that has stores throughout Croatia. (Like its counterparts in other resort towns, this shop was heavy on striped t-shirts, dresses, and other clothing with a nautical look.)
---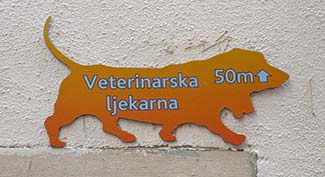 Being fond of dogs, we liked this sign for a Zadar veterinarian. (Cat fanciers might have felt rebuffed.)

---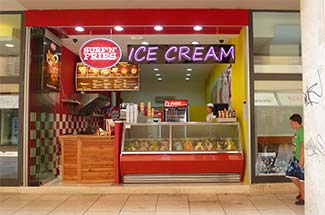 Surf n' Fries, a Croatian fast-food chain, tried to tempt us with French fries, chicken nuggets, chocolate fries, ice cream, and other staples of the local cuisine.
---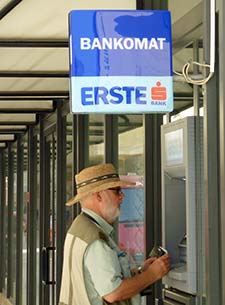 Before we could indulge ourselves, we visited one of the many ATMs in downtown Zadar.
---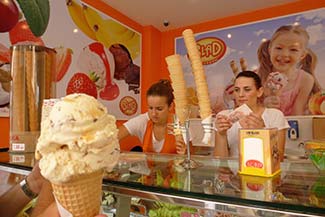 Next, we sampled the wares at the Croatian counterpart to a gelateria. Prices weren't bad: a single-scoop cone was 7 kuna, or just under a euro.
---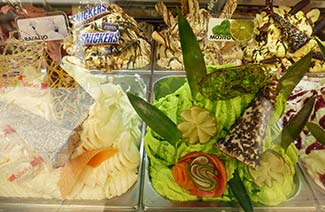 At this shop, as in other Croatian towns that we visited, the displays of ice cream were far more ornate than in the U.S. or Western Europe. Some displays were downright garish.
---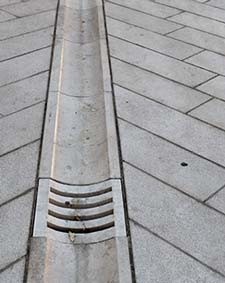 A word of warning to tourists: In Zadar, as in many other Croatian towns, pedestrian streets often have water gutters running down the middle of the pavement. This can lead to spills (no pun intended), especially if--as in Zadar's pedestrian zone--the pavement is made of slippery stone blocks.
---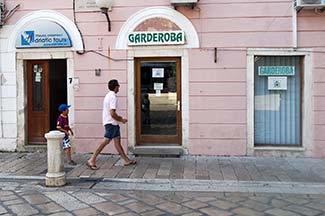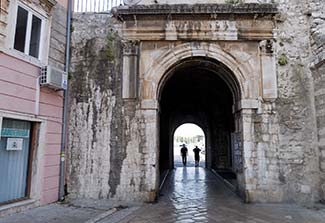 After you've changed into your high-traction shoes, you can park your suitcase at the public Garderoba or Left Luggage office, which is near a tunnel that connects the inner city with the Jadrolinija ferry pier.
---
---
---
---
---