Costa Magica Cruise Photos
From: Costa Magica Cruise Review
Palma de Mallorca (7)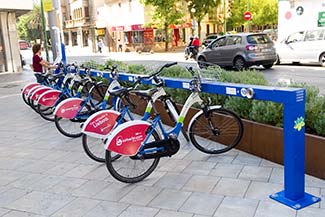 After our visit to Almudaina Palace, we decided that it was time for us to walk back to the ship. Along the way, we encountered a station of Palma de Mallorca's bike-sharing program. (Such programs are popping up everywhere in Europe and North America these days.)
---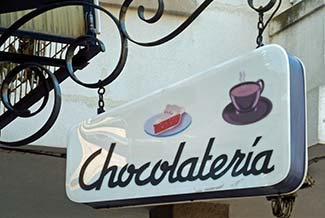 We ignored the siren call of chocolate during our walk, although we did buy ice-cream cones later on. (The low prices, compared to the cost of gelato in Italy, were an irresistible bargain.)
---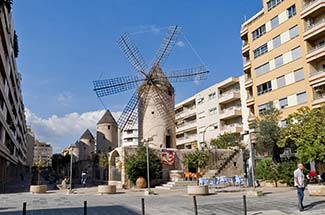 One of the more interesting sights during our walk was a lineup of traditonal Mallorcan windmills between two rows of apartment buildings.
---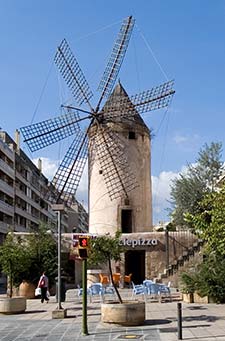 A tiny pizzeria nestled against the windmill by the street.
---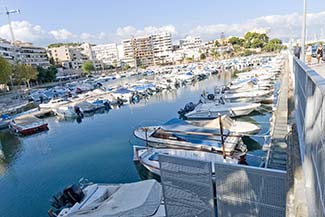 We wondered if the pizzeria made deliveries to the nearby marinas.
---
Soon, we reached the footbridge that crossed from the waterfront apartment and retail district to the Estacions Maritemes, or cruise terminal, near Porto Pi. (The bridge was hard to miss, since Costa Magica loomed over the trees.)
---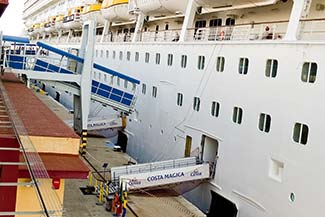 The ship was waiting for us at the pier, right where we'd left it, and we made the 5:30 p.m. "All aboard!" call with plenty of time to spare.
---
---
---
---