Costa Magica Cruise Photos
From: Costa Magica Cruise Review
Savona (6)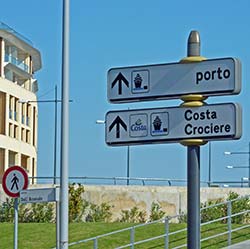 We returned to the harbor from the western edge of the town center, near the Fortezza del Priamar. Costa's importance to the Port of Savona was shown by a signpost: The lower sign gave directions to "Costa Crociere," a.k.a. "Costa Cruises."
---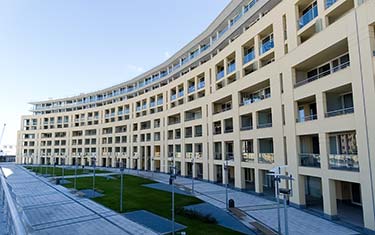 A curved apartment building faced the harbor. (We didn't see any signs of life as we passed by, however.)
---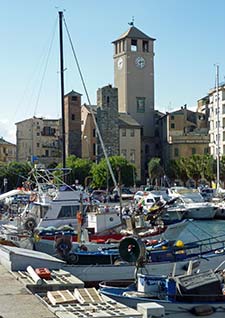 Savona's redeveloped harbor quarter was an impressive sight, with marinas and a blend of old and modern buildings. Across the boat basin, from an area called the Antica Darsena or Old Dock, we could see the Torre del Brandale, which was built in the 12th Century. The tower is flanked by two medieval towers and remnants of Savona's earliest city walls.
---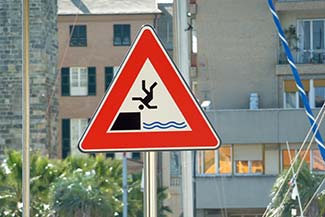 A street sign warned tipsy or careless pedestrians not to fall in the water.
---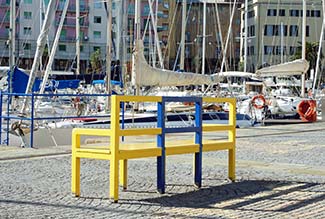 We noticed several park benches in yellow-and-blue Costa livery. (Nearby, locals and tourists were enjoying drinks at outdoor café tables.)
---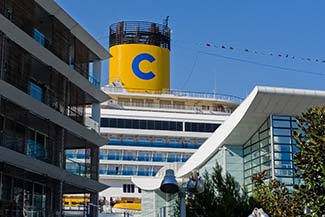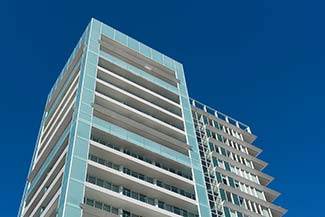 Costa Magica was visible down the street, just beyond Savona's modern cruise terminal (the building on the right in the upper photo) and the attractive glass skyscraper that we'd seen earlier from the ship.
---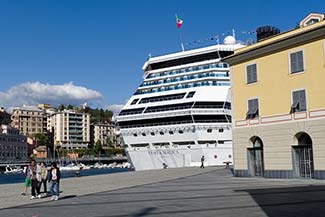 Before getting back on the ship, we grabbed a final shot of Costa Magica from the Old Dock.
---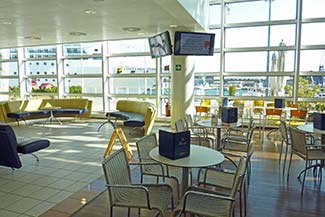 We passed through the Savona Cruise Terminal on our way to Costa Magica. The interior was pleasant, with a café, comfortable seating areas, and large windows that offered sunlight and ship views.
---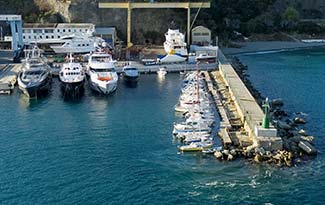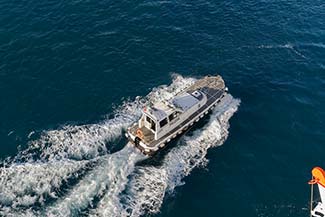 Costa Magica left the pier at 5 p.m., and within minutes, we were passing the breakwater and watching the pilot boat return to port as we cruised toward Civitavecchia.
---
---
---
---