Costa Magica Cruise Photos
From: Costa Magica Cruise Review
Valencia (3)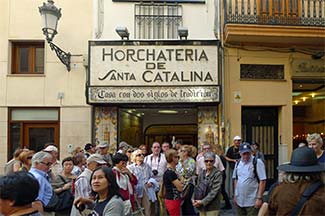 By now, it was late morning, so we made a beeline for the Horchateria Chocolateria Santa Catalina, a turn-of-the-twentieth-century café that specializes in Horchata (in Catalan, Orxata), a refreshing drink made from chufa or tiger nuts.
Don't confuse authentic Spanish horchata with Mexican knock-offs, which are made with rice.
---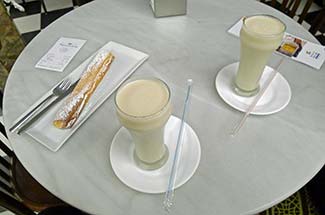 Orxata or horchata is a great refreshment and pick-me-up, especially in hot weather. Although it was invented in Valencia, it's often served by cafés and snack bars in other Spanish cities (especially along the Costa Brava, Costa Blanca, and Costa del Sol).
---
Since we were in the neighborhood, we paid a quick visit to the Eglésia de Santa Caterina or Church of Santa Catalina across the street.


Linguistic alert: "Caterina" and "Catalina" are the same name in two different languages: Castilian Spanish (Spain's national language) and Catalan (the co-official language of Barcelona, Valencia, and other parts of Catalonia in northeastern Spain). In Valencia, most official signs are in Catalan, but shops and other businesses tend to have Spanish names. This can be confusing, especially if your map has one spelling while a building or street sign uses another.
---
---
---
---