Costa Magica Cruise Photos
From: Costa Magica Cruise Review
Valencia (5)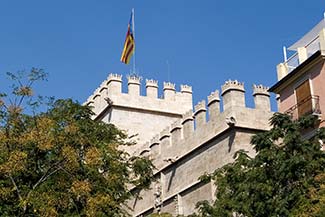 We'd hoped to visit Valencia's medieval Silk Market (in Catalan, the Llotja de la Seda), which is on the UNESCO "Humanity's Heritage" list, but it was closed for an award presentation by the Queen of Spain. Security was surprisingly low-key: Royalty fans and curiosity-seekers were waiting patiently on the sidewalk for the queen to arrive, and the police presence was minimal.
---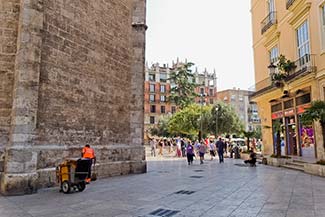 Fortunately, no royals were hogging the Cathedral Square, so we were able to visit La Seu and its environs.
---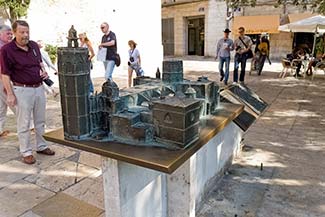 Like most city-center cathedrals, the cathedral in Valencia is surrounded by other buildings, so the authorities have come up with a novel way to help tourists and locals get an overview of La Seu's exterior: They've installed a bronze model of the cathedral outside the church.
The cornerstone of Valencia's present-day cathedral was laid in 1262, on the site of an 8th Century Moorish mosque that had replaced an even older Christian cathedral. The building was a work in progress for centuries, so you'll find a hodgepodge of styles from Gothic through Neoclassical.
---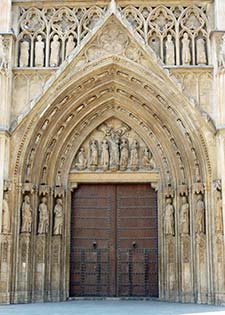 One of the cathedral's most famous exterior features is the Door of the Apostles. This portal, which has 48 relief sculptures, is the site of Valencia's Water Court. The Tribunal de Las Aguas was founded more than a thousand years ago by Moorish farmers to resolve disputes about the allocation of irrigation water.
The court's role is mostly ceremonial these days, but it continues to meet every Thursday at noon in the front of the Apostles' Door.
---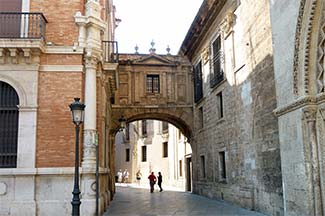 Around the corner from the cathedral, we discovered Valencia's answer to the Bridge of Sighs in Venice, Italy.
---
A Catholic prelate peered at a middle-aged couple from a carved building façade near La Seu.
---
---
---
---