Costa Magica Cruise Photos
From: Costa Magica Cruise Review
Valencia (6)
After visiting the cathedral, we spent time walking around downtown Valencia and soaking up the atmosphere. Here are a few pictures from our wanderings: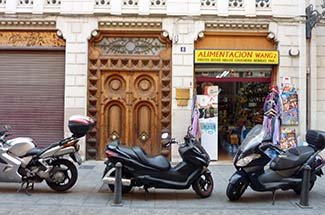 Some of Valencia's 19th and early 20th Century buildings are downright exuberant in their design and decoration. (The scooters are a more recent addition.)
---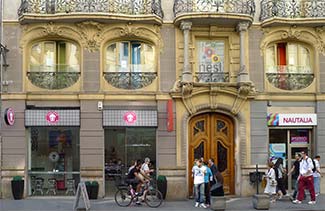 A cupcake shop has taken over the ground floor of another flamboyant apartment building.
---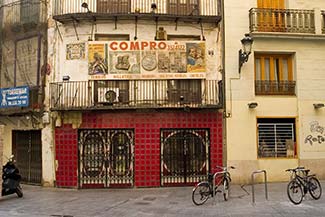 A stamp and coin shop is behind this old building's colorful tile storefront.
---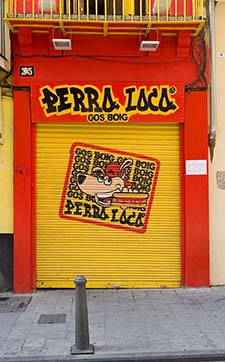 Downtown Valencia's "Crazy Dog" hot-dog eatery has a crazy but nifty color scheme. (The windows were shuttered when we walked past; it was early afternoon, so the shop may have been closed for lunch.)
---
Santiago Calatrava, the Valencian architect, is currently the city's most famous native son. However, we're not sure about this street name's provenance: Valencia has several streets named "Calatrava," so don't confuse the Calle de Calatrava with the Calle del Arquitecto Santiago Calatrava or the Calle de Juan Calatrava when you're trying to find a street address on a map.
---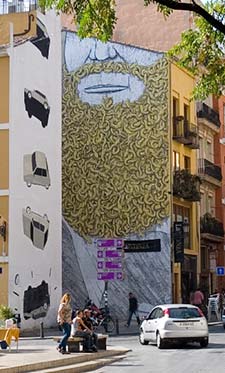 Valencia is noted for leading-edge contemporary architecture, and some of older buildings also have a modern vibe. We saw these murals on a pair of otherwise nondescript buildings in the historic center.
---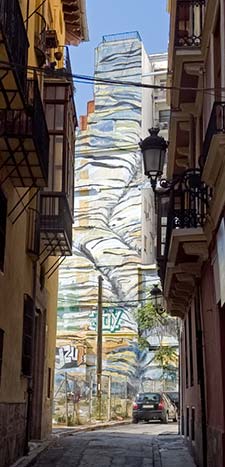 Another building was painted in Dr. Seuss-style camouflage.
---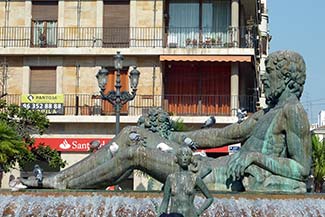 A monumental statue soaked in a fountain with a modern apartment house as a backdrop.
---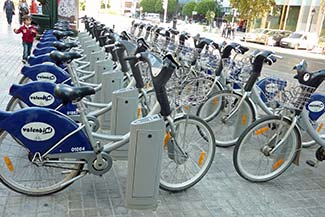 At another location in the city center, the inevitable bike-sharing station provided two-wheelers for people who preferred riding to walking.
(The Valenbisi program operates 24 hours a day year-round, and is available to both residents and tourists. When the network is complete, it will offer 2,750 bicycles at 275 stations in central Valencia.)
---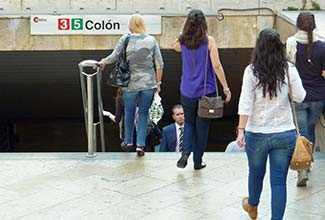 As transit enthusiasts, we were pleased to see stations of the Metrovalencia in and around the city center.
---
---
---
---