Costa Magica Cruise Review
Page 4
Continued from page 3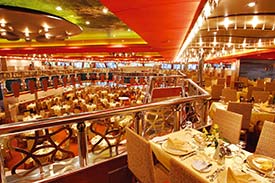 ABOVE: Costa Magica has two main dining rooms, Costa Smeralda and Portofino. Each is on two levels, with assigned seating at dinner and open seating at breakfast or lunch.
Dining and bars on Costa Magica
Restaurants, buffet, and grill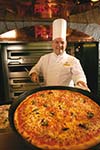 You won't go hungry on Costa Magica: The ship has two main restaurants, a two-story buffet, a specialty restaurant, and two poolside grills. Each day's meal schedule begins with morning coffee at 6:30 a.m. and wraps up with "night time surprises" in the lounges and pizza cooked to order until 1 a.m. If you're hungry in the middle of the night, there's no need to beg your stomach's forgiveness: A limited room-service menu is available around the clock.
Dining venues include:
The bi-level Costa Smeralda and Portofino Restaurants, which have entrances on Decks 3 and 4. At dinner, these restaurants have assigned tables where guests speak the same language; at breakfast and lunch, you'll be seated with other passengers of mixed nationalities. (In the evening, there are two sittings--the first at 6:30 or 6:45 p.m., and the second at 9 or 9:15 p.m. If you aren't happy with your table or sitting, talk to the mâitre d' in your assigned restaurant.)

A typical dinner includes five or six courses, and you can juggle the order if you wish. (Some of our tablemates preferred their salads early in the meal, American-style, while another couple regularly had after-dinner cheese platters before the main course.) Portions tend to be small, on the assumption that you won't just order two or three courses.
The Vicenza Restaurant on Deck 11 is Costa Magica's extra-cost specialty restaurant. It has an Italian menu and boasts of offering "the fascination of a voyage into the world of haute cuisine." We didn't try it, since bas cuisine is good enough for us.

The Bellagio Restaurant Buffet on Deck 9 is the ship's fancy cafeteria, and it's where most passengers go for breakfast and lunch. It's open for breakfast from 7 to 10 a.m. most days, serves lunch from 11:30 to 2 p.m., and has afternoon tea from 4 to 5 p.m. The Bellagio also has pizza by the slice continuously from 11:30 a.m. until 9 p.m. From 10 p.m. to 1 a.m., you can get made-to-order personal pizzas (served at cloth-covered tables) on the Bellagio's upper level on Deck 10.

Dining tips:

If the Bellagio is overcrowded, as it often is during peak breakfast and lunch hours, you can nearly always find a table in the adjacent Lido or pool areas.

We regularly had breakfast in the Positano Lido (aft of the Bellagio Restaurant Buffet), which has hot and cold serving stations. In addition, both Lidos have grills that serve hamburgers, hot dogs, chicken sandwiches, hot French fries, and other lunch items at staggered hours that run from 11:30 a.m. to 4 p.m. Other foods may be offered, too: One day, teams of chefs were cooking up fresh batches of paella Valenciana by the pools.
You can carry your plate from the Bellagio buffet to either of the Lido areas. This means that, for example, you can get made-to-order eggs at the Bellagio's omelette station and take them to a table that your companion has staked out by the pool.

Lunch and dinner menus nearly always include sugar-free items, and Costa can accommodate other special dietary needs. Check the Costa Cruises Web site for details.

Don't expect gourmet food. On a value-priced ship with 2,700 passengers, meals are cooked and served banquet-style (in the dining rooms) and cafeteria-style (in the buffet). In the dining room, most of the dishes are good, and some are better than good, but if you're a foodie who's fixated on high-end cuisine, you may prefer to spend double or triple the fare on a small-ship luxury cruise.
Bars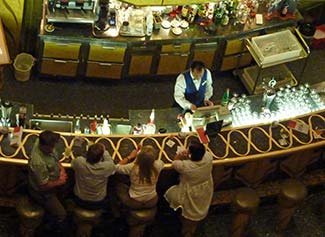 ABOVE: The Bar Italia Magica in the Atrium on Deck 3.
Like most cruise ships, Costa Magica has drinking spots aplenty--but unlike their peers on some American ships, bartenders won't hustle you whenever you sit down in a public room or by the pool.

It's worth remembering that, in Italy, "bar" doesn't just mean a tavern or pub--it's also another word for "café." If you're a teetotaler, you can belly up to the bar and have an espresso without feeling like a wimp. But don't order a latte or cappuccino after midday if you want to blend in with the Italian passengers: In Italy, milk and coffee don't mix after breakfast.
Beverage tips:
Costa offers a variety of water, wine, beer, drinks, and coffee packages that may or may not be good values, depending how much time you'll be spending on board during a port-intensive cruise. (We stuck with the pay-as-as-you-go approach; we might have bought a package if we'd been on a transatlantic voyage with a lot of sea days.)

Pitchers of ice water are available on request in the Costa Smeralda and Portofino restaurants, and you'll find self-service machines for tap water, ice, tea, and coffee in the Bellagio Restaurant Buffet and the Lido Grills.

If you're thrifty, want to avoid crowds, or don't like drinking booze or soft drinks late at night, head up to Deck 10 between 10 p.m. and 1 a.m. and join the handful of passengers (and occasional ship's staff) in the Bellagio Restaurant Buffet's upper level. Pour yourself a glass of ice water, brew a mug of tea, or grab a cup of coffee and relax at one of the tables that don't have tablecloths. (The cloth-covered tables are for ordering a la carte pizza.)
Next page: Entertainment
---
---
---
Top, 1st and 2nd inset photos copyright © Costa Cruises.