ABOVE: Cabin 7400 is a typical Veranda stateroom for two.
Costa Magica has 1,358 cabins. Of these, 464 are veranda staterooms with private balconies, and 58 are suites. Some staterooms have sofa beds or additional foldaway berths, a few cabins are interconnecting, and a small number are equipped for disabled passengers.
We booked cabin 7400, a Veranda stateroom on Deck 7 (also called the "Perugino" deck) near the stern of the ship on the port side. This turned out to be an ideal location for watching the scenery, since land was on the ship's port side during most of our counterclockwise itinerary in the Western Mediterranean.

Our cabin was similar to those we've had on other modern cruise ships: The bed could be configured as a queen or twins (we stuck with the default queen), there was a small sofa along the wall between the bed and the bathroom, and the outer wall of the stateroom consisted mostly of glass, with a glass door to the balcony. The veranda itself was small without feeling cramped, and it had a tinted glass wall instead of a railing to give better views of the ocean while seated on the comfortable chairs.

Like the bathrooms on most mass-market cruise ships these days, the bathroom in cabin 7400 was a molded unit with a one-piece sink and countertop, a vacuum toilet, and a shower. It was well-designed, with an efficient layout and plenty of storage. There was even a retractable clothesline in the shower--a thoughtful touch in the drip-dry era.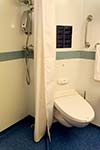 The bulky, old-style television in our cabin was the only evidence that Costa Magica wasn't a brand-new ship. However, Costa's Web site now advertises "Flat LCD satellite TV," so we're assuming that HDTVs will be standard by the time you cruise on Costa Magica.
Other stateroom categories on Costa Magica include "Inside" (cheap, and a good option if you plan to spend most of your time in the bar), "Oceanview" (like our cabin, but with large windows instead of balconies), and "Suites" (at least 50 percent larger than Veranda staterooms, with perks that include priority boarding, Jacuzzi bathtubs and butler service in all but "Minisuites," bathrobes, fancier toiletries, fresh fruit every day, and a bottle of spumante).
Something to consider: If you prefer privacy to poolside crowds, check to see if a "Grand Veranda" stateroom is available on your sailing. These aft-facing cabins are only a little more expensive than standard Veranda staterooms, but they have much larger balconies.