Emerald Star Cruise Photos
From: Emerald Waterways cruise review: Nuremberg-Trier
Day 2: Bamberg (2)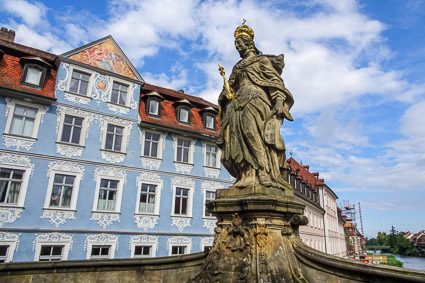 We had about an hour of free time after our tour, so we wandered around Bamberg's Old Town.
This photo, taken from the Untere Brücke or Lower Bridge, shows a statue of St. Kunigunde (a.k.a. St. Cunigunde) of Luxembourg, who was Empress of the Holy Roman Empire from 1002 until the death of her husband, Emperor Henry II, in 1024. She was canonized in 1200 and is buried next to her husband in Bamberg's cathedral.
---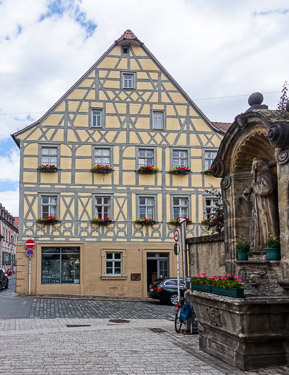 Bamberg's Altstadt, or Old Town, is filled with half-timbered houses. Some are still residences, while others are shops, hotels, or restaurants.
---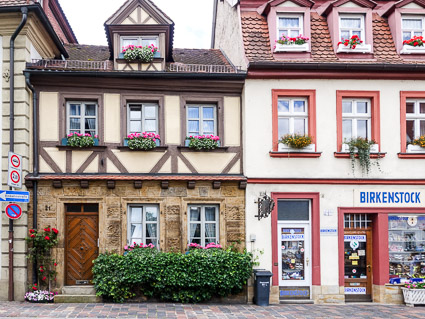 We discovered a Birkenstock shop in this cluster of medieval buildings. Unfortunately, it was closed for vacation.
(Tip for shoppers: Birkenstock shoes and sandals are much cheaper in Germany than in the U.S., even with VAT.)
---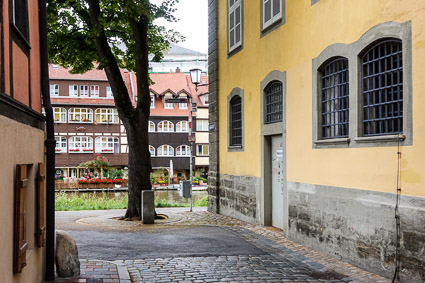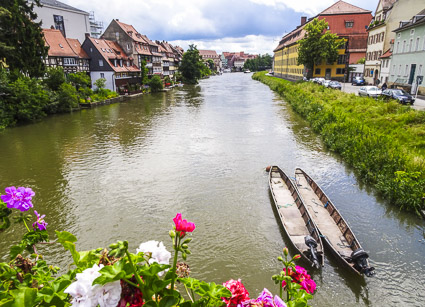 A narrow street led us down to the River Regnitz.
---
A sign on a bridge warned: "No winter service, enter at your own risk." We took our chances.
---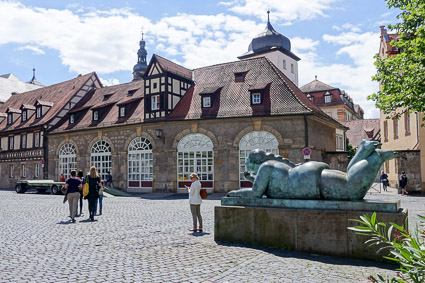 Soon, it was time for us to cross the River Regnitz and work our way back to the Konzerthalle, where a bus would take us back to the ship. In a pedestrian zone off the main road, we saw this attractive square (the Heumarkt) with its plus-size statue, "Lady with Fruit," by Columbian artist Fernando Botero.
---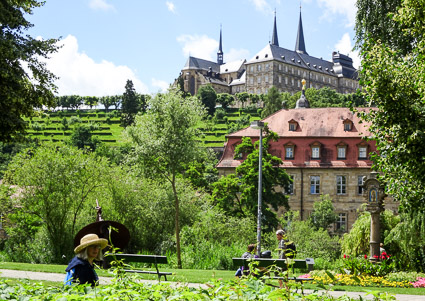 As we walked to the buses, we encountered a park with views of the Cathedral and other local landmarks.
---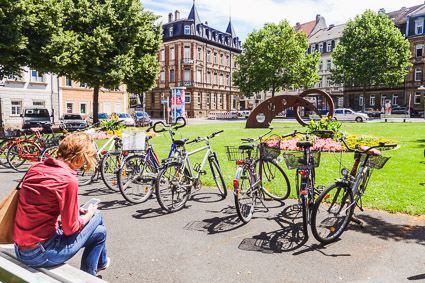 Bicycles were parked along the pavement--mostly without locks.
---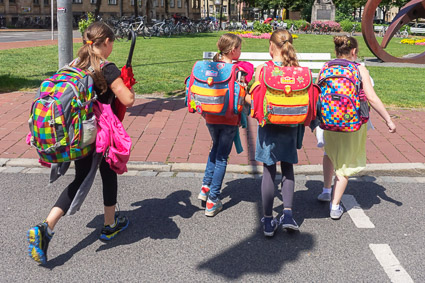 School was still in session, to judge from these girls and their colorful backpacks.
---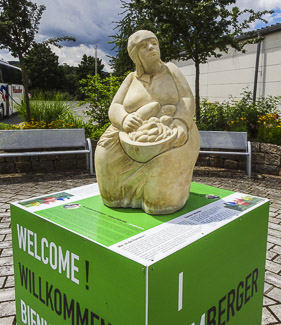 Back at the port, a statue of the Humsera Jetzerdla by Antjepia Gottschalk caught our eye. An English-language label beneath the statue read:
"The Humsera resembles the popular image of the Bamberger gardener women, selling market goods in the common city market grounds--dressed very traditionally. They were known for their good produce and merchandise and their 'big mouth' when negotiating."
Tip: If you're looking for a souvenir, you can buy a replica of the statue on a keychain or as a small garden sculpture in "contemporary, pop-like colors" at stores in Bamberg, at the Gardener Museum, and at the Tourist Information office.
---
---
---
---